Cardinals Official Convicted for Snooping Through Computers
When Correa attempted to apologize, the judge said "No, you intentionally and knowingly did these acts."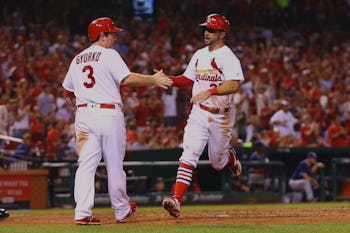 Getty Images / Dilip Vishwanat
There's a distinct difference between friendly competition and outright crime. One former St. Louis Cardinals official learned that the hard way today, after he was sentenced to a 46-month term in prison for snooping through a rival team's computer. Christopher Correa, 36, accessed computers belonging to staff members of the Houston Astros without permission, and pleaded guilty to five counts of unauthorized access of a protected computer back in January. His sentencing was announced today by U.S. Attorney Kenneth Magidson and Special Agent in Charge Perrye K. Turner of the FBI.
Correa, who served as Director of Baseball Development for the Cardinals, hacked into multiple computers that had access to a database known as "Ground Control," which was created privately for Astros staffers. This database contained mountains of confidential information, including "scouting reports, statistics and contract information."
For a year — from March 2013 through March 2014 — Correa accessed the Ground Control network in order to steal information on players and assist his team's strategists. The report, released today, stated that Correa was able to access the network because a former employee of the Cardinals had to turn over his laptop and its password after leaving the Cardinals for the Astros. Correa used that same password to access Ground Control.
Over the course of his time accessing the network, Correa was able to access scout rankings of every player eligible for the draft; an Astros weekly digest page detailing the performance and injuries of potential players who the Astros were considering; the team's scouting crosscheck page, which "listed prospects seen by higher level scouts"; and information on players who had not yet been drafted (and several that had) in the June 2013 amateur draft. Correa also admitted to using the account on July 31, 2013, the Astros' trade deadline, and viewed notes of their trade discussions with other teams.
But it didn't stop there: after the Astros caught wind of an intruder, Correa pushed even further. According to the report, he used his old logins in order to steal another employee's information, then "viewed a total of 118 webpages including lists ranking the players whom Astros scouts desired in the upcoming draft, summaries of scouting evaluations and summaries of college players identified by the Astros' analytics department as top performers."
Needless to say, the snooping spree was over by the end of March 2014. On top of his sentence, Correa must serve a term of two years of supervised release following after getting out of prison, and must pay $279,038.65 in restitution to the Astros. Ouch.