SolarCity Gets $455 Million Cash Infusion
It's not a Tesla acquisition yet, but it sure ain't peanuts.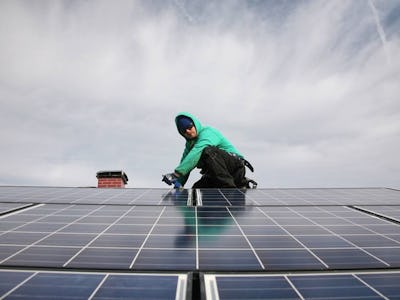 SolarCity / Facebook
For a while there, it looked like the sun was setting on SolarCity. But today, the company announced that it had seen the light — in the form of taking on $345 million in new financing and $110 million in new debt over the past two months.
The much-needed money transfer comes as the company continues to bleed cash. Solar City said in a press release that the money will be used to cover investments in new equipment and installations. The possibility that Tesla will acquire SolarCity has put the company and Musk's web of business dealings front and center in Silicon Valley as well. It's apparently not afraid to carry on business as usual, though — which in SolarCity's case means taking on more debt in pursuit of ever elusive profitability.
The money from June and July brings SolarCity's financing capital up to $1.5 billion in 2016. All of those liabilities would be transferred to Tesla if Elon Musk succeeds in joining the two companies into one big energy conglomerate. The debated acquisition is likely part of Musk's "Master Plan Part Two." Tesla, for its part, appeared ready to expand into the solar panel business on July 13 after it changed its mission statement from "sustainable transport" to the broader "sustainable energy."
Investors and the press initially had a negative reaction to combining Tesla and SolarCity. Due to a huge conflict of interest (Musk is the CEO of Tesla and is on the board of directors for SolarCity), Musk won't vote on the acquisition. Yet share prices for Tesla have steadily gone up since then, as people get used to the idea of living in a Musk-designed future.
Tesla offered a maximum of $2.8 billion for SolarCity. Tesla has to deal with profitability concerns of its own and is counting on the Model 3 to bring it out of the red. Taking on the solar power company is a risk, as the added weight of SolarCity's debts could siphon money and attention from Tesla's car production, but then again, maybe there's a hidden secret to Musk's master plan that solves all that.