ScHoolboy Q's 'Blank Face LP' is Gangster Rap Personified
Here are the tracks you have to listen to.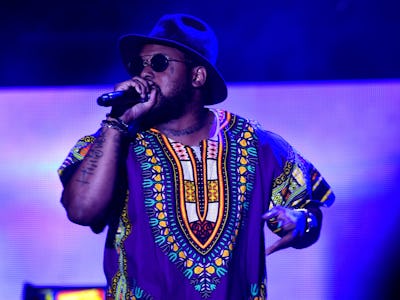 Getty Images / Frazer Harrison
ScHoolboy Q does not come across as the type of person to fret over the commercial success of his music. His songs are drug-filled, gangster, trippy anthems inspired by Q's lifestyle. He oftentimes tells stories of his childhood, showcasing a lyrical ability and flow that listeners can envision. Blank Face is the follow-up to Q's 2014 album, Oxymoron. In the 17 song LP, Q delivers one of his most gangster and politically motivated albums to date.
Before the album, Q put out a couple of short films that culminated in the release of the final part of the video series on July 11th. What starts as a story of Q and his people hanging out on the block ends with a message to the poor, urban community. Although Q retains his gangster mindset, he has clearly grown mentally, urging others to follow suit and end the cycle of violence, drugs, and poverty that was passed down to him and his generation.
The album is a combination of a number of themes, but it all flows well together. Here are five standout songs from Blank Face.
5. "Ride Out" feat. Vince Staples
The heavy bass and interspersed trill throughout the track makes for one of the more hard-hitting songs on the album. The guitar that ends the song reminds us that there is no better combination than rap music and real instrumentation. It is also good to see Vince Staples stretching his legs a little.
4. "Groovy Tony/Eddie Kane" feat. Jadakiss
"Groovy Tony" is one of the singles off of the album. (When the video was released, Jadakiss was not included on the song.) Hearing the Yonkers rapper was a great upgrade to an already great track. The second half, "Eddie Kane" blends perfectly with the first half. It's not the G-funk style that West Coast artists, like Kendrick and YG, have decided to resurrect. The sound is reminiscent of gritty, New York City-in-the-'90s rap. It makes you wonder what could have been had the West and East Coast joined forces early on.
3. "Tookie Knows II" feat. Traffic & TF
There is no denying that ScHoolboy is a gangster. Gangbanging has been an integral part of his life, proclaiming, "Gang, gang bangin' that crip shit/ Niggas said cuz' in the first grade". The song is a banger, but not the type of banger that you would hear in the club. The greatness of this song lies in that it is not meant for the mainstream, rather street rap for the audience that ScHoolboy Q comes from.
2. "Str8 Ballin"
Props have to be given to Nez and Rio for this beat. The duo have produced multiple hits, including A$AP Rocky's "LPFJ2" and Q's "Man of the Year". Q drops some knowledge on this track, speaking about how far he has come from his humble beginnings. "I went from king of the corner/ To breaking down weed on my diploma." This song is close to being the best song on the album, not only for its playability, but its content and narrative.
1. "Neva CHange" feat. SZA
Q delivers a message to poor, young men about changing their destructive lifestyles. He also speaks about police enforcement and their abuse of power in a sentimental song about the difficulty of growing up poor and black. However, if you are expecting this song to be something that you would hear on a Kendrick album, you are mistaken. Q never changes his style and his lyrics are not as poetic as Kendrick, but they are real and honest. Hip-hop was designed for people to tell stories in a way that only they know how and Q does just that.
Check out Q's album now on iTunes and multiple streaming services.