Disney's New VR and Robotics Start-Ups Are Absolutely Magical
The Disney Accelerator program accepts nine new start-ups with its eyes on VR, robotics, and A.I.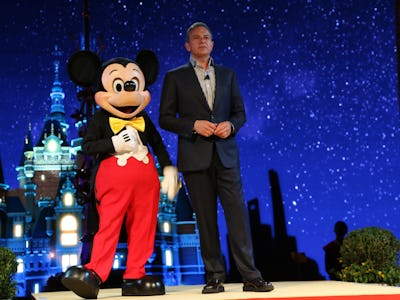 Getty Images / VCG
While not everyone knows the Disney Accelerator program by name, its effects have been felt strongly over the past few years when it comes to the company's innovative new verticals in A.I. and robotics engineering. Sphero, the company behind this past holiday season's break-out hit BB8 toy, is just one among many of Disney's past acquisitions through this program, and the latest batch of start-ups showcases even more of that technology-centered vision.
This year fares a little different, according to Walt Disney Company's Senior Vice President of Innovation, Michael Abrams. According to Abrams, deals will be "ad hoc" as opposed to a one-size-fits-all negotiable price, and for the first time ever, an internal studio is being added to the roster of start-ups. While some companies are more focused toward consumer products like ticketing apps, Disney's never-ending eye on robotics and futuristic tech is on display with the addition of new VR and robotics-focused studios.
Hanson Robotics is best known for its insanely lifelike Sophia robot, but has a long resume of past work in realistic robotics for business and consumer markets. This likely won't be the limit of the company's contributions, but after the impressive feats of Shanghai Disneyland's animatronics on rides like Pirates of the Caribbean, it's likely that Disney park guests might see Hanson's work in future rides.
Past virtual reality stunts from Jaunt VR have included a 360 degree presentation of The Lion King on Broadway, so Disney is no stranger to the start-up's technology. Disney is expected to utilize the "cinematic" technology that scored Jaunt a total of $100 million in venture funding.
"The program has evolved," Abrams told TechCrunch. "What we can do better than other accelerators is to help [entrepreneurs] learn and refine the art of storytelling by working with some of the world's best creatives, and help them understand the various business segments within media and entertainment from advertising to theme parks."
One of the interesting (and slightly overshadowed) new start-ups on the list is OTOY, a company that produces holographic technology using light field GPU technology and its patented OctaneRender software. The software is able to predetermine all of the info for any given light field in use, then retrieve it in real-time using consumer VR devices powered by mobile GPUs. It might not be something of a leap to assume that OTOY might be utilized in promotion for films such as Star Wars and the upcoming Star Wars Land developments at Disney theme parks.
Among other notable names, PlayBuzz joined the Accelerator's lineup, alongside a live streaming vertical geared toward cooking and food.