Facebook Messenger Encryption Is Here, but There's a Catch
The service has introduced "secret conversations" to help protect consumer privacy.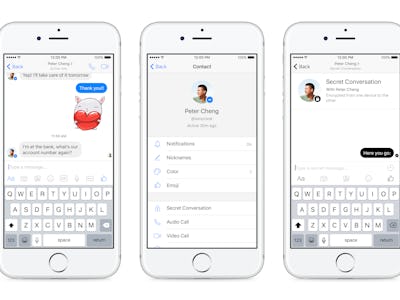 Facebook
Facebook has brought end-to-end encryption to Messenger — but there's a catch.
Rumors about Messenger receiving end-to-end encryption surfaced in May. The company announced Friday that it is slowly rolling out the added security features to Messenger users, with plans to make it widely available to its more than a billion daily active users later this year.
Here's the catch: Messages will not be encrypted end-to-end by default, like they are with WhatsApp, but will instead require people to choose between security and convenience. The added security is only available in "secret conversations" that are separate from other Messenger conversations.
Here's a Facebook-supplied animation of how it works:
Secret conversations have other advantages over their not-so-secret counterparts: People can choose to make their messages self-destruct after a certain amount of time, à la Snapchat, and anything sent in a secret conversation can only be seen on one device. But they also have some limitations that other conversations don't.
Messenger users can't send photos, make payments, or share videos in a secret conversation. And because any messages in secret conversations can only be viewed on one device, there's no way to continue chatting in a web browser if the message was first seen on the mobile Messenger apps, and vice versa.
The idea is that secret conversations will give people more control over how they communicate via Messenger. But as many pointed out when Google introduced Allo, another messaging app that offers end-to-end encryption but doesn't enable it by default, most people aren't likely to enable secure features by themselves.
"Your messages and calls on Messenger already benefit from strong security systems — Messenger uses secure communications channels (just like banking and shopping websites) as well as Facebook's powerful tools to help block spam and malware," Facebook said in its announcement of secret conversations. "We've heard from you that there are times when you want additional safeguards perhaps when discussing private information like an illness or a health issue with trusted friends and family, or sending financial information to an accountant."
It's better to have the choice to have a secret and secure conversation than not. But right now Facebook is offering a half-measure that defends its business model of collecting information about its users while placating consumers who wanted to be able to share private information without fear of eavesdropping.