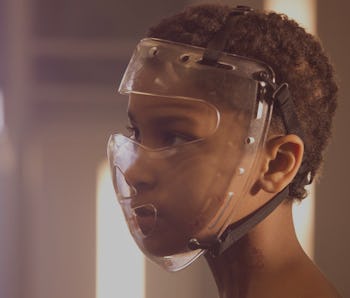 Entertainment
7 Independent, Lesser Known Sci-Fi Films to Watch in 2016
If you're not interested in 'Star Trek' or 'Star Wars', consider one of these indies.
Warner Bros.
2016 has been a banner year for sci-fi movies from indie auteurs, delivering amazing genre features like Midnight Special, The Lobster, and High-Rise. What's even better is that the trend shows no sign of stopping.
With big blockbuster titles like Star Trek: Beyond and Star Wars: Rogue One still set for the latter half of this year, there are plenty of smaller sci-fi films in between to keep your schedule packed with films about space travel, aliens, and hardcore science. Here's a list of just a few of the still-upcoming sci-fi films coming this year.
The Circle
I'm starting with The Circle because it might not come out in 2016. Tragic, I know. Based on Dave Eggers's novel of the same name, The Circle has a cast of famous actors and actresses, including Emma Watson, Tom Hanks, John Boyega, Karen Gillan, and others. While details of the film are a little sparse (the film began shooting last year), the story follows a recent college grad, Mae Holland, as she joins a powerful tech company called "The Circle". As Mae moves up the corporate ladder, The Circle creates more futuristic gadgets that begin interfering with her life and everyone around her. If it does come out this year, this should be the sci-fi event to watch.
Salt and Fire
Werner Herzog has spent the latter half of his career producing expertly crafted documentaries on the human experience. He returned briefly to narrative filmmaking with the tepid Queen of the Desert, but his upcoming volcano disaster film should be a little more exciting. Starring Michael Shannon, Salt and Fire is a race-against-the-clock, disaster film where Shannon and a group of scientists try to stop a volcano from destroying the Earth. So, like an apocalypse movie, but with Herzog directing, so you know it's going to be a metaphor for existential misery, or climate change.
Arrival
Based on the vignette Story of Your Life, Arrival is the upcoming sci-fi film from the same director who will be helming Blade Runner 2. Amy Adams plays the world's leading linguist who is tasked by the U.S. military to communicate with an alien species whose space ships have appeared, mysteriously across the globe. To help with her mission, she's partnered up with Jeremy Renner's theoretical physicist to try and keep the aliens from maybe destroying the planet. The film is looking to be a whip-smart thriller about two sharp heroes who use their brains to save the Earth.
A Monster Calls
An adaptation of the children's fantasy novel of the the same name, A Monster Calls isn't "strictly" science-fiction. But as one of the most interesting genre films with a solid 2016 release date (October 14), it should be given some consideration. A 13-year-old boy wakes from a nightmare to realize he's summoned some sort of tree monster. This monster agrees to tell the child three stories, in exchange for a story from the child afterwards. These stories weave through the intricacies of human life as it is revealed the child's mother is currently undergoing chemotherapy. Directed by the visually innovated Spanish director, J.A. Bayona (The Orphanage), this could be the fantasy hit of the year.
Patient Zero
If there's one thing about the deluge of zombie stories, it's that creators are forced to innovate the undead genre. After a zombie outbreak, these new masses of "infected" are actually highly intelligent, but speak their own zombie language. A survivor played by Matt Smith is the only human who knows the zombie language and partners with Natalie Dormer's virologist to find the original infected, and ask him for a cure. This film could be pushed back to 2017, but hopefully we'll get to see this unique take on the zombie film sooner rather than later.
The Space Between Us
A boy born on Mars comes into contact with an Earth girl he can never meet. This might be the most YA premise for a sci-fi movie out there, but as far as youth romances go, this is certainly the first I've encountered with such an original premise. While the trailer makes it seem like it will end with a prerequisite amount of sappiness, the idea of an extra-planetary romance formed between two humans sounds interesting enough to watch, and potentially be a new leader in the underrepresented sci-romance genre.
One of the more talked about zombie films in recent memory, The Girl with All the Gifts is a British zombie thriller that looks to bring some drama back into a genre devolved into a senseless gore fest. A young girl named Melanie is a child zombie who appears to be mostly in control of her mental faculties. The military base she is imprisoned in becomes overrun by more feral zombies, and she is taken by a group of soldiers and scientists to find a cure. The trailer which is both moody and tense, looks to take after another British zombie film, 28 Days Later, to mix horror with drama. Either way the film looks to be a highlight of the year, and perhaps a new benchmark for zombie films at large.