Sony Back on the Market to Create Bots Capable of Bonding
Sony's popular AIBO in the '90s was so well-loved that some people even repair them to keep as coping partners.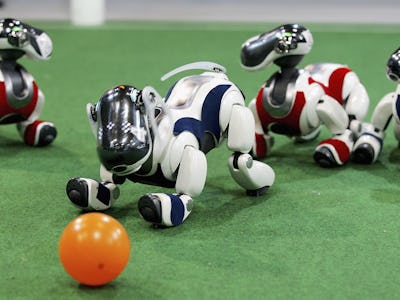 Getty Images / Junko Kimura
For a brief time in the late 90's, getting a robotic dog for a birthday or holiday became as coveted and beloved an instance as opening the gift box to find a real excited puppy. Sony's AIBO was at the forefront of this robo-pet arms race, and its first official U.S. release — with a limited run of only 2,000 — sold out within 20 minutes. The robot was so popular in Japan that it lived far longer than most "entertainment companions" at the time, finally finding itself discontinued in 2006, "scaling back" alongside the rest of Sony's robotic efforts
Today, a decade later, Sony looks to bring back what the AIBO stood for: robot companionship. This week, CEO Kazuo Hirai detailed the resurrection of Sony's robotics branch, saying that its new focus will be on creating robots capable of forming an emotional bond with their human companions.
"Sony will seek to propose new business models that integrate hardware and services to provide emotionally compelling experiences," said Hirai in a recent company presentation. Sony intends to achieve this by using VR sensors in its upcoming models but did not go into detail about what it had planned.
Humans have always sought companionship in all sort from places (let us remember that we're the species who invented the Chia Pet and took home rocks to be our friends before the internet existed) and even for Sony's old AIBO, that still holds true. There's a community of AIBO owners who regularly meet in order to repair their beloved robotic companions. It's for this reason that Sony's move seems like a step in the right direction on all counts: the demand itself is there and the market is wide open, so it's a smart time to relaunch their robotics efforts.
The consumer robot market is growing every day, with additions like ASUS' Zenbo, Blue Frog Robotics' BUDDY, and the crowdfunded JIBO. But Sony could take hold of a larger market with greater needs, such as health care centers and schools, while creating small-scale home robots for assisting personal caregivers or simply adding to the ease of everyday life. Whether or not Sony decides to revive AIBO specifically has yet to be seen.