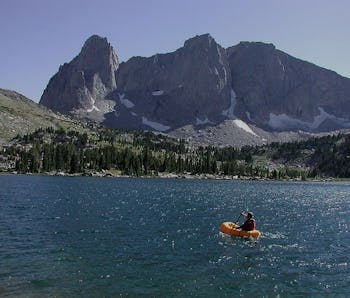 Innovation
11 Biologists You Should Follow on Instagram
Because who doesn't want to see penguin poop?
Bat Biologist.
Real Name: Mallory Tate
Credentials: Wildlife Technician at the University of Tennessee Wilcox Bat Lab
Instappeal: Let's be real, who doesn't like bats? Especially from a bat biologist catching said bats. Throw in some picturesque shots of Tennessee, and this is one fun Instagram.
Glitter Microbiologist.
Real Name: Jessica Johnson
Credentials: Laboratory Supervisor for the Mount Sinai Psychiatry department
Instappeal: Artist, microbiologist, owner of an adorable dog: It doesn't get much better than this.
Shark Biologist.
Real Name: Julius Nielsen
Credentials: Ph.D. candidate in Biology at the University of Copenhagen
Instappeal: Gorgeous pictures of icebergs, stunning landscapes of the coast of Greenland, seal autopsies, and shark tagging – all in a day's work for Julius Nielsen, a marine biologist studying the Greenland shark.
Bird Biologist.
Real Name: Jordan Rutter
Credentials: Graduate student in conservation sciences at the University of Minnesota
Instappeal: She's making the Great Lakes Piping Plover a sight to see. Her Instagram makes you want to quit your job and become an ornithologist, just on the chance you could see the nature that's half as awesome as she does every day.
Marine Biologist.
Real Name: Monika Lynn Krach
Credentials: Marine biologist for the Greater Farallones National Marine Sanctuary
Instappeal: Between the Greater Farallones National Marine Sanctuary in San Francisco and collecting plankton in Antarctica, Monika Lynn Krach gets to see parts of the world hidden from the rest of us. But at least she shares the creatures of the deep that she meets, along with these adorable otters.
Molecular Biologist.
Real Name: Lebaron Agostini
Credentials: Ph.D. candidate in cellular biology at Jefferson University
Instappeal: Hear it from molecular biology Ph.D. student Lebaron Agostini firsthand as he documents sleepless nights, grad student comics, and that research life. He's also posting recent results in molecular biology research, so following him can keep you ahead of the curve.
Conservation Biologist.
Real Name: Catherine Cavallo
Credentials: Ph.D. candidate in ecology at Monash University in Australia
Instappeal: She gets to go scuba diving in one of the most beautiful places on Earth and she analyzes penguin poop for a living. Who doesn't want to hear about penguin poop? Bird poop is serious business.
Illustrating Biologist.
Real Name: Henry Adams
Credentials: Research Technician at the Warnell School of Forestry in Georgia
Instappeal: It doesn't seem fair that he gets to spend his summer doing research in Costa Rica and is such a talented illustrator, but at least he shares what he does on his Instagram. Not only do you get gorgeous shots of nature and wildlife, but also scientific illustrations.
Turtle Biologist.
Real Name: Grover Brown
Credentials: Graduate student at the University of Southern Mississippi
Instappeal: He studies turtles, so his Instagram is full of every possible turtle you could ever imagine. The best part actually goes beyond the photo: Every turtle has a story about how he found it, along with some cool turtle facts.
Desert Plant Biologist.
Real Name: Sheryl Creer
Credentials: Botanist at LSA Associates Inc.
Instappeal: You will never be able to say the desert is a boring landscape of sand again. Just take a gander at these flowers — they can be practically microscopic! And hey, her cat even makes a couple appearances to break up the scenery.
Biological Anthropologist.
Real Name: Laura Diakiw
Credentials: Ph.D. candidate in biological anthropology from the University of Arizona
Instappeal: She's in Akagera National Park in Rwanda right now, studying primates; her Instagram is full of some incredible shots of what fieldwork in Rwanda looks like — from primates to zebras to volcanoes.