'The Neon Demon' Director Nicolas Winding Refn Wants to Make a Batgirl Film
Could he follow up 'Neon Demon' with a superhero film?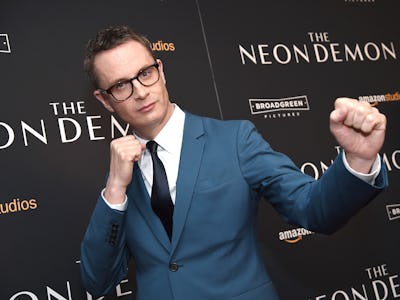 Getty Images / Dimitrios Kambouris
In a recent interview with Business Insider promoting his new film, The Neon Demon, Danish director Nicolas Winding Refn revealed his ideal project. Turns out, that dream project is a superhero film, specifically a Batgirl movie for DC.
This isn't the first time Refn has expressed interest in superhero films. He considers his own neo-noir thriller Drive a superhero film in some form, and the director famously went on record to say that he would like a shot at directing a Wonder Woman film. He lost his chance to Patty Jenkins who is directing the 2017 Wonder Woman DC Cinematic Universe film, starring Gal Gadot.
Despite losing out on Wonder Woman and following-up Drive with two more indie art films Only God Forgives and The Neon Demon, Refn is still compelled by superheroes. He tells Business Insider, "God, I would love to make [a superhero movie], it would probably be great fun."
He follows-up by admitting that while he loves his creative freedom as an independent director, he "also would love to make one of those big Hollywood films that costs a lot of money and has a lot of people running around with cell phones and all that insanity."
Refn seems keen on directing a female-starring superhero franchise, especially after his woman-led horror film, The Neon Demon. While critics debate his latest film's feminist bonafides, it doesn't stop his LA horror film from being another gorgeously atmospheric exercise in style. It also helps that actress Jena Malone, who costars in Neon Demon, was heavily rumored to be playing Barbara Gordon in Batman v Superman: Dawn of Justice.
Really, any superhero movie directed by Refn will probably be unique just in terms of pure aesthetics, though maybe the studio will reel in Refn's more eccentric sensibilities. Either way, giving Refn a shot at a superhero movie might not be the worst call, in a field that's teeming with talented directors.