Paranoid Genius Uncovers ATM Scam in Vienna
It pays to have a background in cybersecurity, as this man found out while vacationing in Vienna.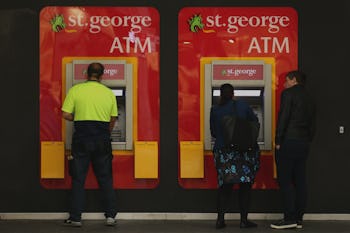 Getty Images / Cameron Spencer
Travelling abroad for the summer is a popular tradition around the world, but the season often brings in a jump in credit card fraud and identity theft. These days, just being close enough to a scammer's scanner is enough to have all of your bank information transferred to them — or whoever they decide to sell it to. So while vacationing in Vienna, a rightfully paranoid cybersecurity officer stopped in his tracks when he noticed a major sign of fraud at a popular ATM.
"While on vacation with my family in Vienna, Austria I went to grab some cash from an ATM, being security paranoid I went and repeated my typical habit of checking the card reader as I have 100's of times," YouTuber Ben Tedesco wrote in the video's description. "Today's the day when my security awareness paid off!"
In the video, Tedesco says that he works for Carbon Black, and demonstrates a telltale sign of deception: molded directly to the ATM's card reader is an outer shell with devices inside that read card info as it comes in. Tedesco removes the shell and then double-checks one next to him to see if it was also affected. He also says that he's going to look into reverse-engineering the cover to see whether or not he can trace it back to its owners.
"It pays to be paranoid," says Tedesco as he ends the video. In a sense, it does — last year, the U.S. saw a record jump in ATM theft between January and April of 2015, climbing up 317 percent due to new tactics used by predators. He's updated the video already to reassure viewers that he's contacted local authorities, saying that he "did not have access to an international phone" at the time of the incident, so he couldn't properly report it.