How Much do Uber Drivers Make? Leaked Data Offers Info on 3 Cities
Drivers in Huston, Denver, and Detroit don't make much more than Walmart employees.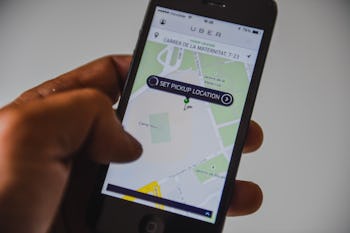 Getty Images / David Ramos
Uber's claims that driver's are paid and treated fairly may hold ground in major metropolitan areas such as New York, but leaked data from three cities — Huston, Denver, and Detroit — suggest average pay is low in these markets and Uber's price cutting measures are doing more to hurt drivers than help.
According to leaked documents and an analysis of numbers both from Buzzfeed and internally from Uber after the leak was exposed, Uber drivers in Huston, Denver, and Detroit don't make much more than the state minimum wage once gas and maintenance costs are factored.
David Plouffe, President Barack Obama's 2008 campaign manager and Uber board member, once claimed the ride sharing company is the pathway to the American dream, but average pay in these cities doesn't fair much better than Walmart.
Analysis of the data shows hourly rates lower than anything Uber has publicly released. In Detroit, where the minimum wage is $8.15, drivers earned $8.77 per hour in 2015 after accounting for expenses. The Denver market, which includes all of Colorado, drivers earned $13.17 per hour when the the minimum wage is $8.31. And Huston area drivers on average earned $10.75 per hour, where the minimum wage is the federal low of $7.25.
In comparison, the largest U.S. employer Walmart, which employed 2.2 million people in 2015, promised last year to raise its minimum up to $10 across all states. Walmart also plans to deliver groceries and other items from its stores using Uber and Lyft.
Uber's pricing scheme has also been very volatile. Uber argues that by lowering its fares (especially during seasons that see low traffic), drivers will get more rides and thus earn the same or more money than they would if fares were as high as Lyft.
However, at least in these three cities, that plan hasn't played out. In Detroit, the ride-hailing company slashed the base charges in half and cut per mile rates from 70 cents to 30 cents. The effect was drivers stopped driving. Eventually, surge charges kicked in as they automatically do when there is more demand for rides than can be met, and drivers took to the roads again.
When they lowered the rates in January, a bunch of drivers quit," Steve Rogers of Detroit told BuzzFeed. I went strictly to Lyft."
A full break down of the leaked documents as well as an analysis of Uber's policy on price cuts, can be found on Buzzfeed.