4 Things We Learned From Seoul's Virtual Reality Summit
The future is looking a whole lot more virtual.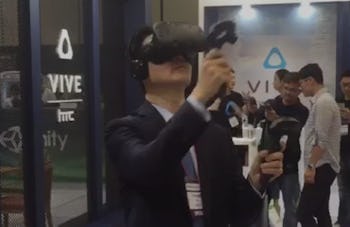 VR Summit Seoul
Some of the greatest minds in the virtual world gathered in Seoul this week for the 2016 Virtual Reality Summit. What does the future hold for the likes of Oculus Rift, HTC Vive, and PlayStation VR? Here are four things we learned.
Virtual reality will bring 'Star Wars' to life
You ever wanted to experience Star Wars in VR? Of course you do! Lucasfilm revealed ahead of the summit that it would be partnering with Magic Leap to bring George Lucas' creation to life in the realm of mixed reality. Not quite virtual reality, but still pretty cool, mixed reality overlays the virtual elements onto the world around it. Not bad.
Virtual pornography is definitely a going to be a thing
EJaculator was on hand (no pun intended) showing off the latest in pornographic technology. The company even found members of the military were interested what they had to offer.
The Oculus Rift looks surprisingly smart when you're wearing a suit
The Oculus Rift is receiving a pair of controllers later this year that will let virtual explorers reach out and touch the world in front of them. The aptly-named Oculus Touch will likely feel cooler than using the Xbox One controller bundled in, but what if you look like a nerd waving your arms in virtual space?
Fear not! One brave crusader has come to show us that, with the appropriate business attire, even you can look like some sort of futuristic salesman!
Extreme sports are about to get a whole lot less extreme
Probably for the best, really.