ScHoolboy Q's 'Blank Face LP' Contains Hidden Meaning
What themes will ScHoolboy Q explore in his upcoming album?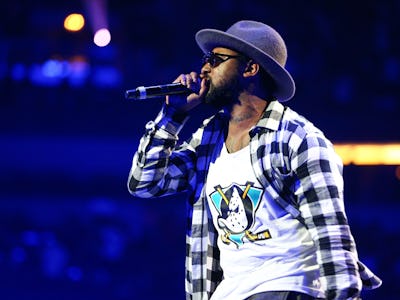 Getty Images / Imeh Akpanudosen
ScHoolboy Q's Blank Face LP is scheduled to drop on July 8th, and the Figg St. rapper has not released an album since his Grammy nominated album, Oxymoron, in 2014. Outside of Kendrick being Kendrick and Jay Rock's "Vice City" featuring Kendrick, Ab-Soul, and Q, TDE has mostly been quiet this past year and the Blank Face LP is set to reawaken the sleeping giants of Top Dawg Entertainment. Q has released two singles, "Groovy Tony" and "THat Part". Each single displays both sides of ScHoolboy Q: an individual who can make party songs, but delivers some underlying message underneath the bars. On June 21, he debuted a dope, cinematic trailer for the album. And three days later, Q has blessed us again with the tracklist and the first part of what looks to be a longer short film. The video features another song off the album, "By Any Means".
What ScHoolboy Q brings to TDE cannot easily be replicated. Every person in TDE plays a role, and they all play their parts well. Kendrick is the brain, Ab-Soul is the conscious, Jay Rock is the street knowledge, SZA is the soul, Isiah Rashad is the youthfulness, and Lance SkiiiWalker is the rising star. But, ScHoolboy Q is arguably the heart of TDE with gangster-rap songs that can double as party anthems. His work is infectious and awfully rhythmic for songs that speak about robbery, drugs, and murder. But, what ScHoolboy Q is able to do well is make his album completely fit a theme and – delve deep into that theme.
Oxymoron explored drug use, not necessarily a critique on whether it is right or wrong, but the feelings and experiences that accompany drugs – including the parties, the drug game, and the disorientation from drug abuse. Because the album has yet to come out, it is hard to tell what the theme of Blank Face LP will actually be. There are very little clues in "THat Part", which is a quintessential Q song that we all know and love. Who doesn't want to hear Kanye say, "Okay", more than 10 times in a song?
But "Groovy Tony", being the first single released off of the album, seems to offer some hints as to what ScHoolboy Q will be discussing. The song directly uses the "blank face" theme by sampling the words throughout the song. In the hook, Q states, "Fuck my image I need to drop / I need to / blank face". The video ends with a scene of a faceless dead man being hanged. This album can signify the destruction of his image, choosing to ignore the way he is viewed by some. The inability to match a face to a person is frightening because it robs the individual of a certain humanity. Without a face, we are unable to discern emotion or certain personality traits that we tend to attach – depending on facial expressions. Q wants to be rid of the judgments and opinions of others by throwing out the symbolization of his image, his face.
Whatever the narrative turns out to be, ScHoolboy Q is sure to deliver another great album. In the meantime, check out all the heat that he has been blessing us with. He sure knows how to build anticipation.