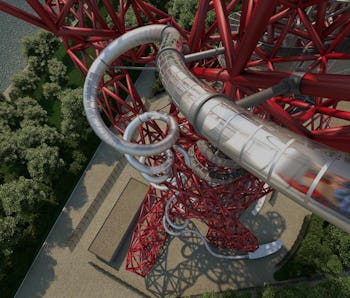 Innovation
The World's Tallest, Longest, Fastest Tunnel Slide Opens in London
For a good time, check out Queen Elizabeth Park.
ArcelorMittal Orbit
Olympic Park's ArcelorMittal Orbit, at about 375 feet, is the United Kingdom's tallest structure. It offers paying visitors panoramic views of London and Queen Elizabeth Park. As a landmark, the ArcelorMittal has received a fair number of bad reviews: People say that it looks like a pile of scaffolding. But it will be hard to naysay the new addition: a slide. An enormous slide. A twirly slide. The world's tallest, longest, and fastest tunnel slide. It'll be open for business on Friday, June 24.
Belgian artist Carsten Höller designed The Slide. The tube is over 500 feet long, and the descent, which twists and turns throughout the intricate structure, takes 40 seconds. Much of the tunnel's top is clear, which makes it possible to absorb views of both the city and the structure as they — as well as, perhaps, your life — flash before your eyes.
Anish Kapoor designed the ArcelorMittal Orbit, and steel manufacturer ArcelorMittal paid $16 million of the $19 million construction price. London hosted a design competition, and the Orbit was selected as the unanimous winner. Since its construction, many have criticized the design, and understandably so. Kapoor, a modern artist almost buried in praise by contemporary critics, reportedly wanted his structure to rival the Eiffel Tower and the Tower of Babel in scope and effect.
It doesn't. But it has a slide!
It's fairly safe to say that he did not accomplish this lofty goal, but at least the giant, confused structure now houses a fun-ass tunnel slide.