4 Tips on How to Get a Career Working in Space
New jobs, we have lift off!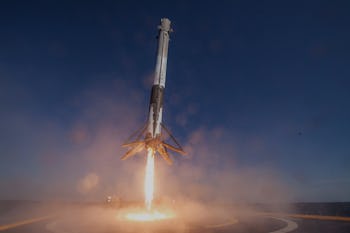 Getty Images
Wanna be the next Elon Musk or Jeff Bezos? Well now you can (maybe)! Space experts at NewSpace 2016 took to the stage on Tuesday to share their thoughts on how the next generation of Neil Armstrongs could break into the big wide world of rocket travel. To the careers fair, and beyond!
Do extra curricular activities
It's easier than ever before to start messing around with space. There are guides online showing you how to get started, building up from small bottle rockets in the back garden all the way to full-blown atmosphere escape.
"There was an elementary school that launched their first satellite. An elementary school!," said Chris Boshuizen, entrepreneur in residence at Data Collective VC. "It's so easy now, people could be going into high school with flight experience!"
These extra skills will place you in good standing when the interview comes. "When you wanna go for a job, you've got evidence you can do it," Boshuizen said.
It doesn't matter if you don't get experience directly working with rockets. Technical tinkerers from all walks of life will find themselves valued in the space industry. If you develop a talent for making stuff tick, chances are you'll be the sort of person the big space firms are looking for.
"It doesn't have to be rockets. We love robot teams," said Erika Wagner, business development manager at Blue Origin. "We love people who are makers, hackers, builders, coders…"
Make your own plans
Expanding on these extra curricular skills could lead to founding a startup that focuses on exactly what you want to achieve, rather than trying to score a job somewhere. It's not for everyone, but for those who know what they want to do and how they want to do it, it could be perfect.
Support exists for startups trying to make it. The Space Angels Network is a network of investors, specifically interested in promising small businesses looking to make it in the aerospace industry.
"Just do it," said Don Weidner, owner of Formidable Ventures. "Build a team around your vision, your dream, and start earlier rather than later."
Even if you don't want to start a business, working out what you want to do in your intergalactic career will pay dividends. "The best hires that we've made have all come in with a desire to do something specific," said Ray Ramadorai, who is responsible for avionics, communications and power at Planetary Resources.
Start with the basics
Employers are interested in people who can challenge accepted ways of solving problems. This is especially useful if these new solutions can help make efficiency savings, or can help solve other problems.
"People that wanna come into the industry, that have experience of thinking about a problem from the beginning, I think are going to have an advantage and the right mindset to be able to come in very quickly," said Ramadorai.
Love space
Of course, it helps a lot if your big desire is all things infinity and beyond. Wagner said that Blue Origin asks at every job interview whether the candidate loves space. It seems obvious, but it's crucial to company culture no matter what the position.
"That is something that we're trying to grok at every level of the company, whether it's finance and business operations, engineering or manufacturing," Wagner said.