From 'Dark Souls' to 'Fallout 4', Here Are The Most Expensive Gaming Collectibles
Collectible statues don't play around when it comes to detail.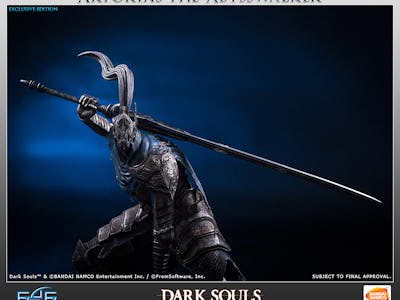 First 4 Figures 
The life of a gamer can be an expensive one, especially if you're looking to experience the best video games have to offer – with 4k resolutions and virtual reality experiences. All that tech adds up. For many players, the video games themselves aren't the only part of the experience. The thrill of collecting memorabilia to support favorite franchises in the industry is just as addicting.
These video game collectibles spread across a wide variety of franchises, with items ranging from the size of a pin to statues as big as their life-sized pixelated counterparts. For the most part, many collectible companies work to represent characters or objects as one might find them in their respective video game universe for a decent price; but if you're looking for a perfect representation your options can often be expensive and limited in quantity.
Even though it may take a few weeks on a waiting list alongside half a dozen paychecks though, the end result is absolutely worth the wait for an avid collector. Here's a look at some of the best and most expensive video game collectibles currently up for grabs. We all have to dream, right?
Artorias the Abysswalker from First 4 Figures
Known for high-end collectibles from classics like Metroid, Sonic the Hedgehog and The Legend of Zelda, First 4 Figures is one of the most respected companies on the market. Each collectible is meant to be a near-perfect representation of the character or vehicle in question, with many of their figures taking over half a year to complete. Late last year First 4 Figures announced that they would begin tackling the Dark Souls franchise with Bandi Namco starting with Artorias of the Abyss, and he's finally arrived this month.
Priced at $499.99, Artorias of the Abyss is an absolutely massive statue standing 21-inches tall with a hand-numbered base and colored packaging. The statue showcases Artorias as players see him in the first Dark Souls during his boss encounter introduction, with his arm limp and sword raised over his shoulder ready to strike. The figure features exquisite detail across his entire form, with paint to compliment it, while staying true to his appearance in the game.
Batman Arkham Knight from Prime 1 Studio
Based in Tokyo Japan, Prime 1 Studio was founded in 2012 with two goals in mind: producing visual effects and high quality collectibles. Known for their work on Transformers TMNT and DC collectibles, Prime 1 has spent the last few years branching out into video games with collectibles based on characters from the Batman Arkham franchise and Witcher franchise.
Priced at $899.99, Prime 1 Studio's newest Batman statue is a 1:3 scale replica of gaming's favorite caped crusader. Standing at a whopping 34 inches tall and modeled after after the appearance of Batman in Batman: Arkham Knight; the statue features Batman standing atop a gargoyle overlooking Gotham with an individually numbed base. The figure also includes a cloth cape which can be adjusted into various positions with the wires positioned throughout for all of your posing needs.
Fallout 4 T-45 Power Armor from Threezero
Based in Hong Kong, Threezero is a collectible studio known for their ability to accurately represent characters from both television and film in the sixth scale format. Over the past few years the company has expanded their horizons by taking on projects from video game franchises as well, working on detailed collectibles for popular games like Dead Space 3 and Titanfall.
One of their newest projects was created in partnership with Bethesda for Fallout 4 and its about as close as you'll get to owning your own suit of power armor for under $500. Threezero's T-45 Power Armor figure is a near-exact replica of the male main character from Fallout 4, complete with an exo-skeleton and full armor set to boot. The figure itself stands 14.5 inches tall with a fully functioning light on the helmet of the power armor, along with the ability to remove every piece of the armor so that you can expose the inner workings of the suit. Threezero has also announced that theyll be making additional power armor sets for the figure in the coming months too so that you can rebuild your favorite power armor set from within the game on your shelf. Currently you can find the figure on Bethesda's website for $380.00 US.