The Ticketmaster Voucher Event List Offers Weezer, Panic! At the Disco, Rascal Flatts
The ticketing company is going to give out at least $42 million in discounts and vouchers.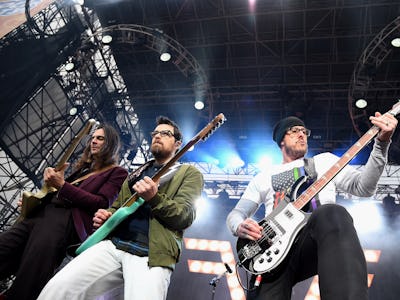 Getty Images / Michael Loccisano
After more than a decade of class action litigation, Ticketmaster is paying up – for charging customers deceptive and misleading fees. But while all customers who used the site between 1999 and 2013 are eligible for compensation, the required effort might overtake the size of the reward.
After five disgruntled ticket-buyers sued Ticketmaster for its fee practices on behalf of as many as 50-million other customers, the company is ironing out how to distribute at least $42 million over four years. Former customers are receiving emails with $2.25 discounts on tickets, $5 discounts for delivery, and free concert tickets in accordance with the number of tickets they bought during the time period in question.
But on Monday, Ticketmaster customers took to Twitter in anger after noticing that vouchers had disappeared from their accounts.
Ticketmaster responded to angry tweets, one by one, with the same response: "The list of events should be available within the next 2 wks. Until finalized, unfortunately the codes won't work or be available."
That means the vouchers haven't just evaporated — they've just been rescinded until Ticketmaster is more prepared for the deluge of voucher redemptions. So far, LiveNation, has finally posted the Tickemaster voucher event list. Some of those concerts include Weezer, Panic! At the Disco, Rascal Flatts, and Barenaked Ladies, allowing customers to relive their music preferences at the time they were swindled, for free!
But customers, beware: redeeming the vouchers for free tickets will be conducted on a first-come, first-serve basis, meaning you'll be competing with millions of other voucher-holders for tickets to the selected list of events.