Noomi Rapace is Surprisingly Back for 'Alien: Covenant'
The 'Prometheus' character makes an unexpected return, despite reports to the contrary.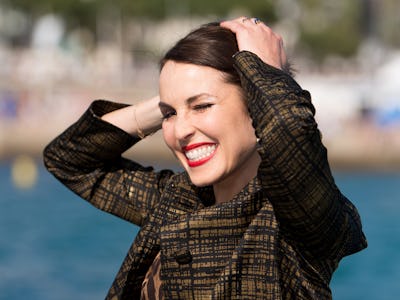 Getty Images / Ian Gavan
The axe-wielding star of the don't-call-it-an-Alien prequel film,Prometheus, is back. In 2012, Noomi Rapace played Dr. Elizabeth Shaw, a scientist who singlehandedly gets a little alien-squid-baby out of her stomach and also becomes the sole human survivor of the titular spaceship, Prometheus. Since then, there have been talks of a Ridley Scott Prometheus 2 and possibly even a sequel to Aliens starring Sigourney Weaver and directed by Neill Blomkamp. Then, the space-dust settled and Ridley Scott announced that Prometheus 2 was actually going to be called Alien: Covenant which is what is filming now. But, Scott had previously said Noomi Rapace wouldn't be in the film.
Now, it looks like that's not true. According to Deadline Rapace has been spotted on the set of Alien: Covenant in Australia and has, in fact, been filming for several weeks. At the end of Prometheus Dr. Shaw hot-wired one of the giant spaceships flown by the "Engineers" and threw the head of the robot David (Michael Fassbender) in her bag to keep her company. At that point, Shaw was in search of answers; a quest to reconcile her quasi-religious beliefs with her scientific brain.
With Noomi Rapace back playing Shaw in the new film, and with that new film having the world "Alien" in the title, there's every reason to believe she won't be finding her philosophical center, but more likely, rigging up flame-throwers with the help of Michael Fassbender. Still, it's possible Ridley Scott was trying to keep this detail a secret, and that Shaw only appears in flashbacks or in the memory banks of David, reminding him to not be such a jerk to humans like he was in Prometheus.
While Prometheus was met with a decidedly mixed reception from audiences and fans of the previous 'Alien,' movies, Noomi Rapace's performance is overwhelmingly one of the best things about the film. Her return, if 100 percent true, can only be a good sign for the new movie.