Twitter Won't Release More Data on the Night the Cavs Won NBA Twitter, but It Was Glorious
The Cavs broke Cleveland twitter.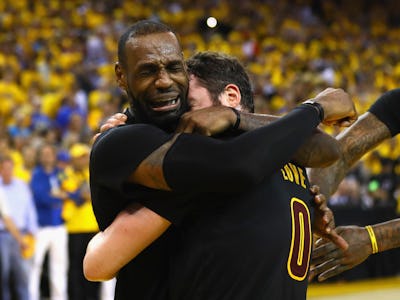 Getty Images / Ezra Shaw
It was about to be the biggest heartbreak in Cleveland history. I could barely hear the TV over my heartbeat. A Cavs fan relocated to New York, I was Skyping into my hometown in northeast Ohio, where my family was watching Game 7.
There were 6.5 seconds on the clock. The Cavs were up by 4. The ball went to the Warriors' Steph Curry. We all sat in silence. My entire family, dressed in Cavs shirts — Dellavedova, Love, LeBron, and JR Smith — were solemn-faced. Steph Curry missed. The clock read 1.8. Then Marreese Speights missed the three. The buzzer sounded: The Cavs had won the NBA Finals.
There were a few seconds of total silence.
And then all hell broke loose. Each side of the Skype collapsed into virtual hugs as tears streamed down our faces. We were yelling, "We won?! We won?!
Everyone with a Twitter account was sharing pictures of LeBron crying, and pictures of themselves crying, and any time anyone said, "Cleveland, this is for you," there was even more crying and more tweeting.
On Monday, Twitter announced epic numbers for Sunday night's game, but it's hard to know exactly how many people in Cleveland were spreading the love on social media.
Twitter isn't reporting how many mentions Steph Curry had last night, and Brian Poliakoff, a Twitter flack, tells Inverse that Twitter isn't planning on releasing more data that included comparisons of mentions over time.
Poliakoff also said that Twitter wouldn't be releasing data on the geo-relationship of the tweets, so we're left to speculate whether last night was the biggest night for Cleveland on Twitter. (It was.)
The data for Cleveland-located Twitter show that a Cavs-related hashtag has been trending on Cleveland Twitter since Sunday evening. #NBAChamps was the most popular hashtag in Cleveland until about 3 p.m. this afternoon, and #ALLinCLE dominated the airwaves over the Game of Thrones buzz during the game.
Overall, there were 24.2 million tweets sent during the NBA finals this year, seen over 8 billion times on Twitter. And Game 7 alone had over 8.4 million tweets, making it the most tweeted event in NBA Finals history.
Today, ABC reported that last night's Game 7 had 30.8 million live viewers, 4.6 million more viewers than Game 7 of the 2013 Heat vs. Spurs finals. It's also the third most-watched event of the year, following the Super Bowl (111.9 million) and the Academy Awards (34.4 million).
Of all of the tweets about the finals, LeBron James was mentioned in nearly half — 11 million of those tweets are about King James. He's the most tweeted-about player on the Cavaliers, and as the game ended last night, LeBron mentions topped off at 27,000 tweets per minute.
Twitter is reporting that the top three most-tweeted moments of last night are as follows: the Cavs win, LeBron hits that last free throw to give the Cavs a four-point lead, and Kyrie Irving hits the game winning three over Steph Curry with 52 seconds left to play.
We may never know exactly where all those tweets were coming from, but they all sound like pretty #believeland moments to me.