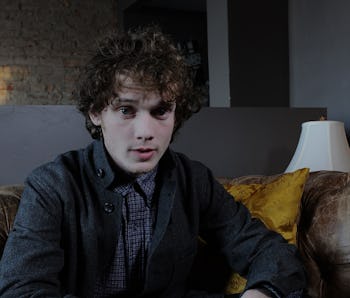 Entertainment
Anton Yelchin Gave 'Star Trek' Youthful Brilliance
The late actor enriched and energized his fans in small, but important, ways.
Getty Images / Michael Buckner
One of the most wonderful aspects of both of J.J. Abrams's 'Star Trek' films has always been the fantastic re-casting of each of the classic characters. In the 2009 film, a heartwarming standout among that cast was Anton Yelchin's turn as the brilliant, kind and wonderfully resourceful Pavel Chekov. In the wake of the devastating news of the young actor's passing, here's why Yelchin's performance made him unique and totally irreplaceable.
While Yelchin's work in Fright Night, Only Lovers Left Alive, Green Room and more is all excellent, he will undoubtedly be remembered for Star Trek. And for fans like me, that performance probably comes down to a very specific and memorable moment in the first film when Yelchin's Chekov exclaims "I can do that!"
The scene is all about having to beam up Kirk while he's falling in midair to his certain doom. It's going to take some complicated in-the-head-seat-of-the-pants computations, and Chekov knows he's the only person who can figure it out. After he repeats "I can do that!" we see him bounding through the halls of the Enterprise quipping "MOVE MOVE MOVE!"
This is great for the apparent reason that it's really funny, but the way Yelchin plays it is with energetic innocence and confidence. There's nothing cynical or cloying about his interpretation of the character. He simply plays an extremely talented and hyper young guy who is totally awesome but isn't entirely aware of it. Yelchin's Chekov is a sweet savant who completely earns the label in the film as the "Russian wiz kid."
Just like the venerable Walter Koenig who originated the role of the Russian navigator; Yelchin was in fact of Russian decent, providing cultural consistency to Chekov. And while Chekov is technically a secondary character, what connects in Yelchin's performance is the simple conveyance of kindness combined with energy. In the outpouring of condolences from Hollywood, this notion of Yelchin's energy was repeated by Justin Lin mentioning his "enthusiasm," John Cho calling him "courageous," J.J. Abrams saying he was "funny as hell," and on and on. What becomes clear here is that in many ways it seems like Yelchin's youthful, funny, kind and quick Pavel Chekov was in some ways, a reflection of what those around him seemed to love so much.
During an interview with Leonard Maltin back in 2008, Yelchin demonstrates his excitement for playing the character, but also his desire to do something "new." The way he comes across in this – and basically all of his other interviews – isn't rehearsed or stilted, but not unprofessional either. He's the smart, nice guy in the room, and he knows that he's totally the person for the job.
In all forms of storytelling, it's good to have variety. As a modern mythological juggernaut, Star Trek's strength has often been in its diversity of characters. And the inspirational thing about Anton Yelchin's portrayal of Chekov was it reminded audiences and Star Trek fans how to be talented, intelligent, dashing and kind all in the same moment. For that, Yelchin will never be forgotten.