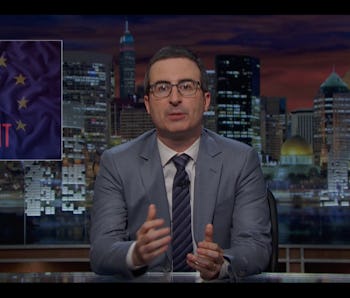 Entertainment
John Oliver Slams Brexit on 'Last Week Tonight'
The referendum is taking place days after the murder of Jo Cox.
John Oliver/YouTube
Anticipating one of the year's biggest votes, John Oliver laid out his Brexit position on his Sunday show. Turns out he's a Bremainer, and thinks Brexit is more a vote for Bratus Quo.
The U.K. is voting on Thursday – whether to remain a member of the 28-country European Union, or withdraw in an act nicknamed by the press as "Brexit." The vote is set to have a huge impact on the global economy, with chairman of the Federal Reserve Janet Yellen stating on Wednesday that Brexit played a role in her policy decision- making.
What does Oliver think? "[The EU is] a complicated, bureaucratic, ambitious, overbearing, inspirational and consistently irritating institution, and Britain would be absolutely crazy to leave it," he said.
The referendum is taking place days after the tragic murder of Labour member of parliament, Jo Cox, who was shot in her constituency Thursday. The man charged with her murder gave his name in court as "death to traitors, freedom for Britain."
At the same time, the campaign to leave the EU has underscored the question of immigration. EU citizens have the right to live and work in the U.K., while EU laws cover the process by which refugees seek asylum. This was the theme of a poster by the U.K. Independence Party, unveiled hours before Cox's death, which was subsequently shown to bear resemblance to propaganda produced by the Nazi Party.
"It is hard for me to overstate to you how poisonous things have become in England," Oliver said. "In that cauldron, people are being asked to make a major political decision."
Oliver attacked figures publicized by the Vote Leave campaign, which placed the cost of membership at £350 million per week. The figure is actually about £190 million, a price probably not too far off from what the U.K. would pay to retain single-market access from outside the EU. Outside the EU, however, Britain would lose its influence over EU governance.
One of the arguments for leaving is that the U.K. would stop having to listen to EU bureaucrats, who pass laws around products sold inside the bloc. Oliver said that if Britain left, companies would most likely still abide by EU product laws to keep trading with the rest of the continent. In practice, the U.K. would not find itself free from rules over pillow case flammability. "It's not a Brexit so much as a Bratus Quo, or a Bromeostasis or a Conscious Unbroupling," he said.
"And yet, polls suggest that my homeland is on the edge of doing something absolutely insane," Oliver said.
The polls close at 5 p.m. EST, with the first results expected a couple of hours later.