Uber Offers Free Rides to 272 LGBT Landmarks This Weekend, but None in Orlando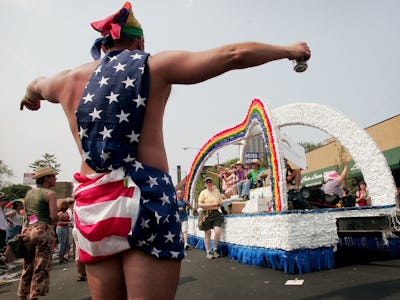 Getty Images / Scott Olson
This weekend, Uber is offering free rides of $20 or less to riders looking to visit any of the 272 pre-selected LGBT locations in some 41 cities in the United States and Canada. It's a grand showing of solidarity with the LGBT community following the hate crime and terrorist shooting at the LGBT nightclub Pulse early Sunday morning in Orlando, which resulted in the deaths of 49 victims.
"To celebrate life and love in all its forms, this weekend (Friday, June 17 to Monday, June 20) we'll be offering free rides to and from places that are important to the history and culture of local LGBT communities in cities across the U.S. and Canada," the company posted on its website today.
Orlando is noticeably absent from the list of cities, but Uber tells Inverse the company chose not to run the promotion in Orlando this weekend because many of the funerals and memorials of the victims are happening. The company noted it is offering free rides to families of the victims via a private promo code.
For those in the 41 cities where the promo is offered, Uber is offering two rides worth $20 to and from predetermined locations. In some cities the code is automatically added when a destination is chosen and in some you need a promo code.
San Francisco somewhat unsurprisingly has the most offered destinations with 12, while others such as Cincinnati offer as little as two locations. Most of the establishments are nightclubs — but there are also LGBT community centers, support networks, and historical landmarks.
In Chicago the deal is actually extended: it's good for rides to and from the 47th annual Pride Festival this weekend in the city's famous Boystown neighborhood and on June 25 and 26 for the city's Pride Parade.
Uber also encouraged users to donate to the OneOrlando Fund, which is the official crowdfunded page set up by Orlando Mayor Buddy Dyer. The money will go to nonprofits supporting the victims and families; underlying causes the event; LGBT, Hispanic faith [centers], and other affected communities; and "other needs we cannot anticipate until we face them."
It should be noted that Uber's rival Lyft is holding a #BetterTogether promotion now as well by encouraging riders to use the hashtag #bettertogether to be entered in a contest to "receive a year's worth of Lyft rides, credit from HotelTonight and a gift card from Southwest Airlines!"
Here are the participating cities in Uber's promotion: Atlanta, Baltimore, Boston, Charleston, Charlotte, Chicago, Cincinnati, Cleveland, Columbus, Connecticut, Dallas, Denver, Detroit, Hampton Roads, Houston, Indianapolis, Kansas City, Las Vegas, Los Angeles, Miami, Milwaukee, Minneapolis-St. Paul, Nashville, New Jersey, New Orleans, New York City, Orange County, Ottawa, Palm Springs, Philadelphia, Phoenix, Pittsburgh, Providence, Rhode Island, Raleigh-Durham, Sacramento, San Antonio, San Diego, San Francisco, Bay Area, Tampa Bay, Toronto, Washington, D.C.
Here's a full list of locations in each city for the Uber promotion.