Joker and Harley's 'Suicide Squad' Tattoos Tell a Hidden Story, Says Director David Ayer
Jared Leto's character also took some inspiration from Instagram drug lords.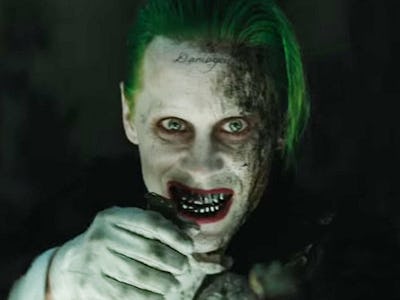 YouTube
Fans have had a good look at Jared Leto's incarnation of the Joker from Suicide Squad for well over a year now, and since director David Ayer tweeted out the first look at the clown prince of crime, people have mostly fixated on the chaotic character's on-brand ink. Leto's heavily tattooed version of the Joker has his devotees and detractors, with most reasoning that his body art is a bit too on the nose. You get the sense that having a tat that reads "damaged" across a character's forehead and is kind of obvious. But in a new interview with Yahoo! Movies UK, Ayer explains the tattoos are an essential part of who Leto's character really is.
"The tattoos tell a very specific story," Ayer told Yahoo!. "And eventually people will decipher them and understand what's going on, but obviously they're contentious, any time you do something new it's contentious. There's very specific stories and Easter eggs in those tattoos. And even his teeth, there's an entire story behind that which is absolutely canon. It's putting his history on his body. This Joker is a little more working class, who I believe could live in our world."
So what can fans decipher? Well, there's the aforementioned "damaged" on his forehead, which is self-explanatory. A skeleton wearing a jester hat: yep, got that too. A big tattoo of a grin along his arm and a bunch of "hahaha" tats here and there. We solved the riddle: he is, in fact, the Joker.
All jokes aside, while Ayer's comments are obviously meant to drive home the extent of Leto's method acting in the part, he also explained the Joker's look was inspired by some not very nice guys.
"I took a lot of inspiration from drug lords on Instagram," he also told Yahoo!. "It's a great way to understand the lifestyle of a villain."
Joker's tattoos aren't the only relevant ink in the movie either. Ayer also explained that Harley Quinn's tattoos are equally as important.
"She did these herself in prison," he said about the iconic character played by actress Margot Robbie in Suicide Squad. "They're stick and poke tattoos, prison-style tattoos, that you do when you don't have a tattoo gun. She did them herself out of boredom and desperation… There's I Heart Puddin', a Joker face, a love heart… that's obviously reflective of her time in prison."
It'll be interesting to see what his other tattoos that we haven't seen in tweets or production stills will reveal, if anything, once we actually get a look at the movie.
Be on the lookout for tattoo spoilers when Suicide Squad hits theaters August 5.