Jeff Bezos Announces Blue Origin Live Webcast Will Start at 9:45 a.m Sunday
And liftoff is set for 10:15 a.m.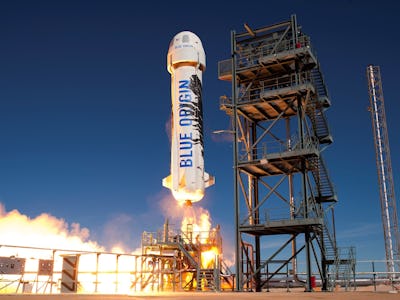 Technical issues have delayed the launch of Blue Origin's New Shepard rocket to Sunday morning, announced Jeff Bezos, founder of the aerospace company, today.
The reason: "Replacing leaking O-ring in capsule's nitrogen gas pressurization system," the Amazon founder posted on Twitter.
For the first time, Blue Origin will stream the launch and landing attempt live on the internet. The broadcast at blueorigin.com begins at 9:45 a.m. Eastern and the launch is set for 10:15 a.m.
The launch is going to be worth watching for two big reasons:
1. It's the first time we'll get to watch live a rocket that's already been to space (three times already) go up again ("same hardware," as Bezos put it).
2. It will be also offer Blue Origin an opportunity to see what happens if the crew capsule — which will hold six people — lands without the aid of one of its parachutes, similar to what happened to on the Apollo 15 mission in 1971. The "one-chute-out test" starts about seven minutes into the flight, Bezos posted to Twitter on Friday.
The crew capsule won't exactly be crashing to earth. There are a few redundancies built in, as Bezos explained earlier this month in a letter to the Blue Origin email list:
The crew capsule is equipped with a two-stage crushable structure that absorbs landing loads, along with seats that use a passive energy absorbing mechanism to reduce peak loads to the occupant. As an added measure of redundancy, the crew capsule is equipped with a "retro rocket" propulsive system that activates just a few feet above the ground to lower the velocity to approximately 3 ft/sec at touchdown. This final maneuver causes the dust cloud you can see when the crew capsule lands.
The rocket landing is something we've seen three times before in videos released by Blue Origin, albeit never live. The stylish videos feel like a mix between a military recruiting ad and a commercial for the sort of sports car a middle-aged man might buy. Here are videos for the first flight (the rocket wasn't recovered), the second "historic" flight, the third flight that showed a confident company, and the fourth flight, described as "flawless."
On Sunday we'll get to witness the launch (and landing) of the rocket that will hit the Karman line (100 kilometers above earth) before returning to the dirt in West Texas. It's safe to say there won't be guitar chords soundtracking the live webcast (although that would be interesting) like the videos we've seen up to now.
"Watching a rocket launch (and rocket landing!) might add a little extra fun w/ kids on Father's Day," Bezos posted to Twitter on Friday.
Eventually, Blue Origin will use this New Shepard rocket and its crew capsule to take people on brief trips to this boundary between the atmosphere and space. Bezos recently set a target of 2018 to do just that.
And it's not all little rockets for Bezos. This week, he wrote to people on the Blue Origin email list that his team was "making good progress" in the development on the BE-4 rocket engine, two of which could be used in the planned Vulcan, a heavy payload rocket from United Launch Alliance that will most certainly compete with Elon Musk's SpaceX Falcon Heavy (also in development). The BE-4 boosters will carry the Vulcan much further than the New Shepard's space tourists as it puts satellites into geosynchronous or geostationary (depending on the mission) transfer orbit, which for satellites is about 35,786 kilometers above earth.
This story was updated at 10 a.m. Friday with new details about the mission.