A Guide to Shanghai Disneyland's New Rides and Attractions
Disney's big Shanghai experiment opens tomorrow. Here's what's familiar and what's brand new in the world's newest Disney resort.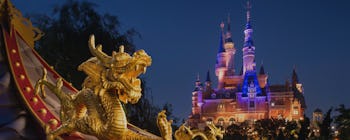 Shanghai Disney Resort
Shanghai Disney Resort opens tomorrow and its a big deal in a lot of ways. A massive undertaking that was years (and years) in the making, Shanghais Disney represents partnerships, sacrifices, compromises and a whole lot of money. The result, though, is pretty stunning.
Shanghai Disney Resort is huge, with hotels, restaurants, shops and attractions that marry Disney's brand with Chinese cultural and architectural influences. Many of the attractions and amenities are new, and though a few bear some resemblance to rides in the American Disney parks, most are rides, experiences and shows that we haven't seen before.
Unchanged, though, are the staples of any Disney park: there are still plenty of characters, still plenty of food, plenty of thrills, and plenty of Disney-themed merchandise to buy. Though there are familiar elements, Shanghai Disney Resort is unique to China in many ways.
Here's the quick guide on the world's newest Disney Resort.
Hotels
A big part of the all-in Disney experience is staying in one of the resort hotels, which are notoriously themed and experiential. The hotels at Shanghai Disney Resort are the Shanghai Disneyland Hotel and the Toy Story Hotel.
The Shanghai Disneyland Hotel overlooks a large lake that separates it from the park itself and features Art Nouveau decor." The more luxe of the two hotels, it offers wedding and dining experiences. The Toy Story Hotel, by way of contrast, is the more family-oriented of the hotels. Naturally, it features decor and experiences largely centered around the film that gave it its name.
Attractions & Entertainment
There are a bevy of new attractions in Shanghai Disneyland itself. In true Disney fashion, the park is made up off several different areas: Adventure Isle, Fantasyland, Gardens of Imagination, Tomorrowland and Treasure Cove. Some of these names are familiar, coming from Disneyland or Walt Disney World's Magic Kingdom. Some of the rides are familiar, too — classics like Peter Pan's Flight and Dumbo the Flying Elephant are present, and many attractions are centered around beloved IPs.
But among the new attractions is the TRON Lightcycle Power Run, a thrill ride that features the iconic vehicles from the film, as well as the requisite blue glow and high speeds, up to 60 mph.
Theres also a new attraction called Soaring Over the Horizon, which expands upon the wildly successful Soaring Over California rides featured in the American parks. Rather than taking riders on a tour of California, though, Soaring Over the Horizon features glimpses of noteworthy sites all over the world.
Other new rides include Roaring Rapids and Explorer Canoes (both water rides) and Snow White-themed coaster Seven Dwarfs Mine Train. There are also interactive areas like the outdoor Camp Discovery — which features trails, natural elements and a rope course — and the indoor Marvel Universe, which is home to favorite Marvel characters and artifacts.
Fantasyland, as it always has been, is full of kid and family-friendly elements, from spinning Honey Pots (a variation on the teacups) to Voyage to the Crystal Grotto — a slow-moving ride through a cavern filled with scenes and elements from favorite Disney films.
Beyond the rides, Shanghai Disneyland features the shows, parades, and character experiences for which Disney is famous. In fact, the park will feature the longest parade yet, dubbed Mickey's Storybook Express. And, of course, there's the castle — the enormous Enchanted Storybook Castle, which stands at the center of the park. It's the biggest Disney castle yet.
Everything about Shanghai Disneyland is huge.
Food
Its not a theme park without the food. There are dozens of new places to get your grub on, from snacks and quick-service restaurants to full-scale dining experiences.
Featuring Asian as well as American and western cuisine, there's a lot of variety in the new eateries inside the park and in Disneytown — the shopping and dining district. There are some new creations — including Wandering Moon Teahouse and magnificently named Stargrazer Grill — as well as familiar names like The Cheesecake Factory and Starbucks. Overall, the restaurants will feature 70% Chinese fare and 30% western food.
Disneytown
Not unlike Downtown Disney, Disneytown is home to a number of stores and restaurants, as well as the Walt Disney Grand Theatre, where visitors will be able to catch The Lion King in Mandarin. From Build-A-Bear to LEGO, the shopping is pretty universal and largely what you might expect to see in any collection of stores outside of the Disney parks. And, of course, there are plenty of shops filled with products designed around favorite characters and films.
On the surface, the park looks and feels and seems very fundamentally Disney. It's familiar and all of the typical elements you'd expect from a Disney park are present, from the castle to the characters. But as CNN's Matt Rivers points out in the video above, Shanghai Disney was built for a different audience — one that's familiar with different characters and has different experiences with the IPs that are all over the park.
Shanghai Disney Resort is huge, it was incredibly expensive ($5.5 billion) and in some ways, it looks exactly like what you'd expect from a Disney park. But make no mistake: Shanghai Disney Resort is a brand new park and a very new endeavor for Disney.
In order to make the park happen, Disney had to make a number of compromises, including ceding some of the park's control to the government. This is unprecedented for Disney, and the degree to which that shared control will affect the success and direction of the park is still largely unknown.