Singer Christina Grimmie Shot While Signing Autographs in Orlando
During a signing event after performing Friday night, an unidentified man walked up to singer Christina Grimmie and opened fire.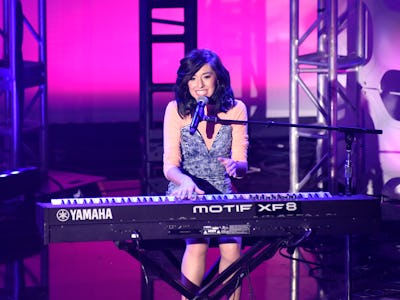 Getty Images / Vivien Killilea
Horrific news out of Orlando tonight as singer Christina Grimmie is in critical condition after being shot by an unidentified man after a concert, according to the Orlando Police. The singer, known best for her run as a contestant on The Voice, performed on Friday night with pop/punk band Before You Exit at The Plaza Live before the incident occurred, according to the Orlando Police. The police department sent out quick updates on twitter that said Grimmie's brother tackled the suspect, who then shot himself.
The Orlando Sentinel's Christal Hayes was in immediate contact with the law enforcement on the scene, as well as witnesses, who described hearing gunfire before the crowd began running toward the exits. According to Hayes' relay from the police, the suspect was armed with two handguns.
Police have not reported any other injuries from the scene, but as of Saturday morning, the plaza's parking lot remains roped off. Worried fans and celebrity friends began an immediate trending hashtag, #PrayforChristina, partially in support of the singer's recovery, and partially to look for more information on her state.
Orlando Sgt. Wanda Miglio lead a press conference shortly after news broke, stating that no motive or relationship between the shooter and the singer have been established yet, and that the investigation is ongoing.
Grimmie began her career on YouTube and released her debut single, Find Me, in 2011. It wasn't until 2014 that Grimmie truly burst onto the scene as a fan-favorite finalist for The Voice, and — despite not taking the win — signed to Adam Levine's label, 222 Records. The singer has gained famed support from rapper Lil Wayne and pop star Justin Bieber over the course of her career. She was set to continue her tour throughout Los Angeles and Southern California next week.
This is a developing story.