'Mr. Robot' Season 2 Teaser Trailers Show Fsociety Hurtling Toward the Void
Darlene, Mr. Robot and Phillip Price sound off in new micro teasers.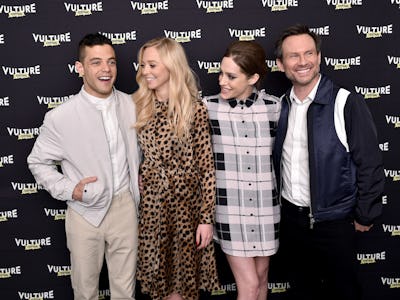 The second season of Mr. Robot is only about a month away, and more information about the highly anticipated second season is beginning to emerge. Yesterday, EW posted a piece of their cover story on the show, suggesting that Elliot has taken refuge at his mother's house as he attempts a digital detox.
However, his old demons confront him again. In one of the new teaser trailers released earlier today, Mr. Robot is portrayed once more as the devil on Elliot's shoulder, beckoning him to finish the job they had started. In the other two clips, Darlene works herself through her own existential crises, and Phillip Price — the CEO of E Corp — confidently and coldly states that, no matter what, his company will still control people's lives by manipulating the concept of the American Dream. Mr. Robot will not be deviating much from its dark themes for season 2, it's safe to say.
Watch the featurettes from Darlene, Phillip Price and Mr. Robot below via EW.
The new season of Mr. Robot begins July 17 on USA.