Facebook's Immersive 360-Degree Photos Could Coax Users Back From Instagram
360-degrees makes regular panoramas look so 2015.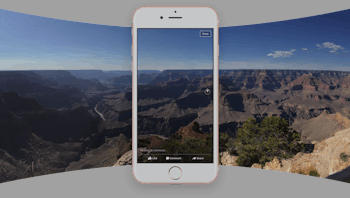 Facebook unrolled a new feature on Thursday that could give users a reason to start actually posting their photos to Facebook again.
Starting today, Facebook users can upload a panorama photo they take with their phone's camera or with a 360 app onto their newsfeeds. Friends will see the photo with a floating compass in the corner, indicating that they can drag their mouse or finger around the photo to explore the panoramic image. Of course, the photos will also be available in virtual reality through Facebook-owned Oculus. Facebook previously announced that the change would be coming in May.
The feature doubles down on Facebook's vision of its role in virtual reality. It's similar to Facebook's 360 video feature, which allows viewers to control their immersive viewing experience in a video, as if they were watching a virtual reality video. But it's far easier to create content for the new feature, which requires just a camera-equipped phone instead of film equipment and editing know-how.
In a post Thursday, Mark Zuckerberg demonstrated the new capability with a panoramic shot of New York City from One World Trade. But there was one hiccup in the characteristically sleek unveiling: in the top comment on Zuckerberg's post, one commenter noted "bro photo doesn't move" (sic). Anyone viewing a 360 photo on mobile will have to download the newest Facebook app—otherwise, they're stuck with static images for now. When you do get them to move, however, it's pretty cool.
So far, Zuckerberg is killing it at the 360 photo game, although he's got Time magazine and New York Times photographers on his side. Check out this one, of the inside of the U.S. Supreme Court, put out late Thursday afternoon.