It's Time for the White Stripes to Reunite
LCD Soundsystem surprised a lot of people by coming back. Here's why Jack and Meg need to do the same.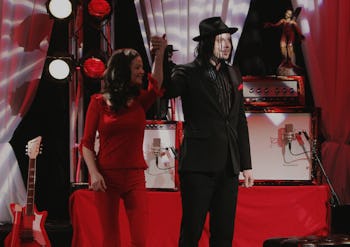 Getty Images
In the midst of LCD Soundsystem's summer festival run, it's tough to remember that the band's recent reunion was fairly implausible. James Murphy & Co. played its goodbye shows at Madison Square Garden only five years ago before announcing a comeback. It's fine with me and beginning to settle in with others. I've always been wary of hiatuses or retirements with bands: They have a tendency to return, whether for creativity, cash, or both. There are plenty of bands that would be welcomed back to the stage with open arms — The Smiths, Talking Heads, and Pink Floyd, among them. Yet, there's one splintered group that stands out to my generation, the pertinent question returning, over and over: Will the White Stripes ever reunite?
All official indications, if you've been paying attention, point to a big, fat "no." Jack White has repeatedly said there's no way it will happen and, two years ago, even went as far as to go after Meg White's personality and say, "I don't think anyone talks to Meg." I almost emailed White's publicist to ask if there's any chance, but then thought the better of it — as I'd probably get a quote just like this one from 2012:
I would probably say absolutely not. Absolutely no chance. I couldn't see any reason to ever do that. I'm not the kind of person that would retire from baseball and come out of retirement the next year. I mean, if we went to all the trouble of telling people we're done, we meant it you know?
If we were forced to change our mind about that, I can only imagine the reason being if we went bankrupt or really needed the cash, which would be a really sad thing. I would probably be issuing an apology along with the announcement of the show dates.
Behind his burgeoning solo career and the success of Third Man Records, the prospect of White calling up Meg for a stadium cash-in tour is a slim one. But, that doesn't mean it won't eventually happen. In fact, I'd bet that it will, given the following circumstances. That's right, people, I'm betting the White Stripes show I saw in London in 2004 won't be my last.
Jack and Meg remain healthy
This is a big one. If either of them — most people are probably looking at the checkered past of Meg, here — gets sick or worse, prematurely, it's not happening. We might need a significant slice of time for this thing to take off.
Jack gets bored
This is one busy dude, between his solo career, the record label, The Raconteurs, The Dead Weather, a film career, and becoming the next baseball bat magnate. He is constantly moving and he's fascinated by colors, patterns, cycles, and history. Eventually, he is going to come around.
Meg pushes for it
If she and Jack become buddies again, why wouldn't they want to write some new tunes together? One thing is almost certain: White wouldn't do a "normal" reunion tour, where the two just played the old hits. He would need a creative element.
Conan O'Brien tells them to do it
He got them to come out of the shadows once. Coco can do it again.