Australia Post Wants Self-Driving Cars And Ground Drones To Deliver Mail
The mailman's about to get a robot companion.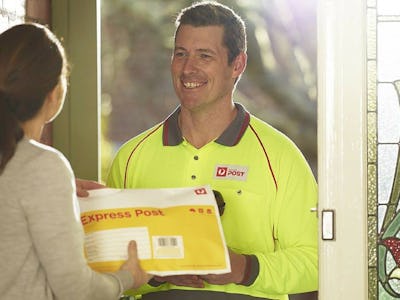 Australia Post
Your mailman could eventually be replaced by a fleet of drones and robots, impervious to dog bites and unable to feel any emotional attachments. Fully swapping out mailmen may be years away, but Australia has plans to make man and machine work together, according to Dirk van Lammeren, general manager of small business at Australia Post, the country's government-owned postal service provider.
Van Lammeren imagines a setup in which flying drones take care of remote, rural deliveries, while ground-based machines stick to terra firma in urban areas and keep the skies clear. The urban robots help out mailmen on their rounds, acting as unthinking, unfeeling helpers.
"I personally think that in high density areas, the traditional ways of delivering parcels through couriers is a very good one, with even drones and robots that actually run on the ground to deliver," van Lammeren told Mashable Australia on Wednesday.
The idea of flying drones to deliver mail is nothing new. Amazon made big headlines last November with its idea, dubbed Amazon Prime Air. The company hopes that one day, "seeing Prime Air vehicles will be as normal as seeing mail trucks on the road."
In July 2015, Switzerland revealed plans to test drones for mail delivery. The small Matternet-developed quadcopters are capable of carrying up to 2.2 pounds over a distance of 12 miles. As a means of delivering small packages efficiently, the system has clear benefits.
Australia Post started conducting trials on rural drone deliveries back in April, and expects to complete the tests in six to 12 months time. Van Lammeren's plan goes further than Amazon or Switzerland, though, by providing a solution for the cities.
The initial trials are necessary to see whether Australia Post's vision would make sense on a larger scale. "Only by doing [the trial] can it give us insight," Van Lammeren said. "Does it work? Is it feasible? Is it viable? Are our customers waiting for it or is it awkward?"