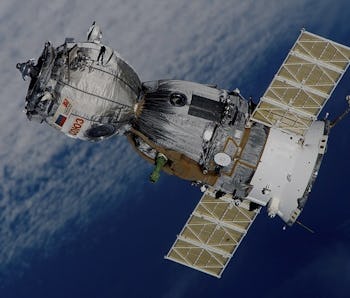 Science
Space Is Crowded, Lockheed's Head of Space Systems Knows How to Stay Ahead
With more players in the game, space needs to be cheaper, faster, and more collaborative.
"Space is no longer the sole domain of the U.S. Government and a couple of large countries," Richard Ambrose told an audience full of journalists, policy wonks, and bureaucrats on Wednesday as part of the Atlantic Council's annual Captains of Industry Series that took place in Washington D.C.
As executive vice president of Lockheed Martin's Space Systems Division, Ambrose is in charge of making the craft that offers one of humankind's best chances at putting a person on Mars, the Orion Spacecraft. Though the setting was dry, when Ambrose talks, the industry listens.
Over his 45-minute address, he mentioned the new players in the field, commercial players like SpaceX, and smaller countries like India's famously cheaper-than-the-movie-Gravity Mars satellite. He stressed three keys to succeeding in an increasingly crowded space sector.
First and foremost, "we need to confront the status quo," he said. Historically, space has been tradecraft industry. One company or nation develops tech to solve a single problem, that same tech is useless to solve the next, it's not scalable.
"We can 3D-print a titanium tank in three months that would normally take 24 months; that gives us scale," said Ambrose, and he wants to apply that thinking to space manufacturing. Lockheed's already started using 3D-printed parts, and some of them are on NASA's Juno Satellite set to enter Jupiter's orbit on July 4 of this year, so there's proof-of-concept.
Ambrose also wants us all to embrace change. He described Lockheed's CHIL system, or Collaborative Human Immersive Laboratory. Here's how it works: engineers at Lockheed use CHIL to manipulate virtual prototypes in virtual environments to improve design real-time then see it run in modeled simulations. This solves problems before anything is ever built, which speeds up efficiency and lowers cost.
It also helps astronauts practice their space-moves. "Once a tech works out a maneuver on the computer, he or she can print out all the moves and it'll be available for practical application," Ambrose said.
Finally, Ambrose reminded everyone to dream big: NASA has led the way as far as exploration and research into space, but it's going to take a collaborative effort to sustain long-term missions to the Moon and beyond. Shrinking budgets make space exploration harder, cooperation is the answer. Our biggest dreams can only be shouldered by the combined efforts of countries and companies working together.
"I feel the urge to look over that horizon. Whether you have budget pressure or not, you have to keep moving forward," stressed Ambrose.
See below for the full video of Ambrose's talk titled: Thriving in the Space Sector.