MTV's 'Scream' Season 2, Episode 2 Employs Psychological Horror, Emma's Dad Returns
There's no Ghostface in the second episode of season 2, but there's a whole lot of people that might be Ghostface.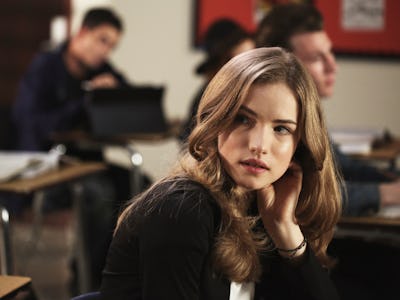 MTV
MTV's slasher TV show wasted no time in surprising viewers in its Season 2 premiere, by offing the bumbling jock Jake (Tom Maden). The Lakewood Six promptly became the Lakewood Five, and it became obvious that psychotic killer Piper Shaw didn't do enough to exact her own brand of revenge in the first season. We know Ghostface is back, but the characters in Lakewood are still a bit slow on the uptake. No one is really aware that there's a killer out there at this point besides Audrey — who's still receiving taunting texts — and the killer him/herself. The season's second episode, "Psycho," was surprisingly lacking in the kills and the killer but was heavy on the plot place-setting.
When episode 2 opens, Emma (Willa Fitzgerald), for some reason, is left snooping around a pig barn that we find out belonged to the James family. She spent months in therapy and now shes right back in the thick of being a bit too nosey for her own good. It seems after the older brother Brandon snapped, back in the 1970s, and went on his killing spree, the James family escaped to this very farm to get away from the stigma of being community outcasts. For reasons unknown, Emma's mother Maggie (Tracy Middendorf) hung around there with them too, thus Emma's PTSD dreams about the barn and the pig entrails.
At the same time, Noah (John Karna) is using the pretense of his crime podcast "The Morgue" to become a mini detective. He endeavors to find out whether Piper Shaw had an accomplice. Unbeknownst to Lakewood's own budding Ira Glass, the accomplice is his best friend Audrey (Bex Tayor-Klaus). When Audrey receives a text from the new Ghostface, saying her friends will turn on her one they know the truth, the pressure of being found out begins to build. Audrey attacks Haley, the girl who played the prank on her at the movie theater in the season premiere. Later, when Noah investigates the hotel that Piper stayed at during her time at Lakewood, we even see Audrey threaten the hotel manager by using the Ghostface voice changer on a phone call.
When we spoke with showrunners Michael Gans and Richard Register, they said one of the main things they were bringing to this season is a sense of psychological terror, instead of straight up slasher kills, and "Psycho" exhibits that.
All the Lakewood characters are dealing with the fallout from Piper in their own way. Emma seeks help from her psych teacher, whom she meets in a coffee shop, and she has a flashback thinking that a girl with glasses sitting nearby is Piper (we also have to mention the fact that the teacher is, strangely enough, recording their conversation). Audrey panics and resorts to violence, while Noah keeps his head down with his amateur sleuthing. Brooke seems to increasingly suspect that something happened to Jake, but is none the wiser when she receives texts (from Ghostface) hinting that he's okay. She's also, oddly, given a car from a person whom she thinks is Jake. The Land Rover, presumably from Ghostface, proves that the killer is as rich as they are psychotic, but something tells us this might be a gift from dear old mayor dad. Well have to wait to find out.
Besides a peek at a mysterious hooded figure and a flashback from Emma's climactic confrontation with Piper at the dock, there's no Ghostface in the episode at all. Instead there's heavy indications about others who could be the killer.
Kieran (Amadeus Serafini), who threatens to move to Atlanta with his Aunt Tina because he's a minor, and rekindles his relationship with Emma, might have snapped and could now be trying kill off the survivors after his father was killed. Aunt Tina could be some long0lost James relative, since we don't know her last name yet. Kieran's cousin Eli (Sean Grandillo) is just a straight up weirdo, as is Stavo (Santiago Segura), the new sheriff's son who creepily flirts with Brooke at the police station while she files a missing person's report on Jake. Even Brooke's dad, the mayor (Mad Men's Bryan Batt) is seen with some incriminating texts from Jake that put him at the scene of the murder.
The biggest curveball is that Emma's dad (Tom Everett Scott) shows up in town again after following her throughout the episode in an old beat-up car. It made us think this was John Carpenter's Christine for a minute, before Kevin suddenly confessed to wanting to start up his relationship with his daughter again. "Just trying to figure out the best way to approach you," he tells her. Yeah, stalking your traumatized daughter in a car at night is surely the best way to say, "I love you." Great parenting skills.
There are a lot of possibilities, but the character with figurative and probably literal blood on her hands is Audrey, who takes a cue from Noah and goes to inspect a storage locker owned by Piper. Her stalker wants this to happen, for whatever reason, and as she opens the garage door there's a whole bunch of air fresheners and Jake's rotting corpse with a personalized note for her: "See how I finished the job for you, Audrey?"
Everybody in Lakewood is keeping even more secrets, and that's just how the audience and the showrunners likes it. But seriously, what is it with this place and literally everybody being some form of shady? As Randy from Wes Craven's original movie once said, "Everybody's a suspect."