Google Hiring EU Government Officials to Gain Influence, Project Claims
Is Google buying European influence?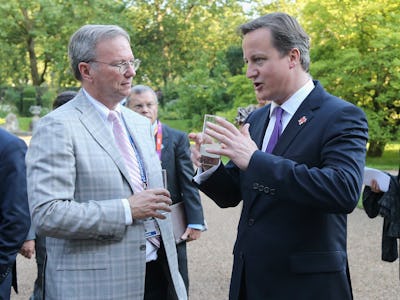 Getty Images
Google has strong ties to European governments, with research from a recently-launched project revealing at least 80 personnel moves between various national governments and the European Union as a whole. The moves, it is claimed, are done to boost Google's influence in the governments of the continent.
According to a report released by the Google Transparency Project (GTP), 65 European government officials have joined Google since 2005, and 15 people from Google have moved on to government positions. The GTP launched earlier this year, and the report is one of its first major project revelations.
Dame Margaret Hodge, a British Labour member of parliament, told the GTP that this "revolving door" system is intentional. Google's aim is to gain influence. "I have absolutely no doubt it's part of their strategy," she said. "Google deliberately nurtures that culture and I have absolutely no doubt that they see it as strategically important to be as close as they can to government."
Hodge served as a minister during the 1997-2010 Labour government. "One gets the impression that (government) ministers are in awe of Google," she said.
The GTP does not appear to be affiliated with Google. It is two months old, launching soon after the Campaign for Accountability sent out an email to the press announcing the site's imminent reveal. The project's "about" page describes it as an initiative of the larger Campaign, "a 501(c)3 project that uses research, litigation and aggressive communications to expose how decisions made behind the doors of corporate boardrooms and government offices impact Americans lives."
According to the GTP, one area where Google has sought to gain influence is in the UK, where Google has hired 26 public officials. The list includes Verity Harding, who served as a special advisor to former deputy prime minister Nick Clegg, and Sarah Hunter, who worked as a senior policy advisor for former prime minister Tony Blair.
It's not clear who is funding the GTP, though. Fortune put forward a number of firms that could potentially be funding the project, including Microsoft and Oracle, but said that it's odd that a project dedicated to transparency won't reveal who's funding it. Microsoft previously ran an advertising campaign that drew attention to Google's privacy policies.
For its own part, the project seems open to input from members of the public. "We envision GTP as a crowd-sourced investigation to which anyone can contribute," the site's about page reads. "Users can explore the data, add new information or suggest new lines of inquiry."