Björk Releases Virtual Reality Music Videos for Her Album 'VulnicuRa'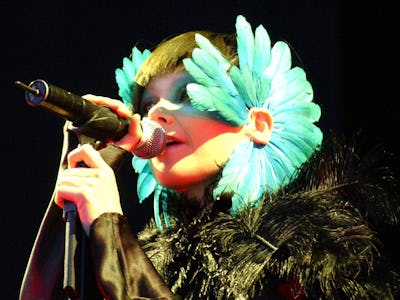 Zach Klein; Wikipedia
Never one to let the future pass her by, Björk, the Icelandic singer-songwriter, is introducing an entirely new dimension to her music videos: Virtual. In honor of her 2015 album Vulnicura, Björk has developed a series of virtual-reality music videos that will tour the world and eventually be available for download. Including tours of her home country and even 360-degree views of the inside of her mouth, the effort reflects both the promise of virtual reality as well as the technology's early stages.
The exhibit, entitled "Björk Digital," will debut in Sydney, Australia this week. At least four VR music videos will be available on 80-Gear VR headsets and through the HTC Vive. The exhibit will also travel to Tokyo, London, Paris, and Houston. It will eventually be available for download on Oculus Rift, HTC Vive, Gear VR, and as mobile apps for iOS and Android.
Björk is undoubtedly the most well-known musician to make such prominent use of virtual reality in their music. Several musicians have experimented with the technology. Taylor Swift released a VR-version of "Blank Space," and U2 and Fort Minor each produced 360-degree videos, with varying levels of success. Despite these early efforts, Björk's exhibit seems to be the first time an artist conceived of virtual reality as a separate art form, deserving of its own tour and debut.
While it may take a little while for critical consensus to emerge, given the difficulty of actually seeing the VR music videos, "Björk Digital" will play a role in determining whether the virtual reality realm debuts as a powerful new platform for artists or a kitschy fad-like crowd teaser. Early reports suggest the exhibit does take some admirable risks, and it will be interesting to see how crowds and viewers react.
Music videos already exist in a kind of purgatory between being pure music and pure video. Asking a crowd what makes a great music video will generate as much as asking what makes great music or a great movie. It's clear that a great song does not necessarily have a great video, or even that great videos can be made out of decent songs. The realm of VR definitely adds more to the visual or experiential qualities of a music video, but Björk would neglect the musical capabilities at her own peril.
Björk's Vulnicura debuted more than a year ago, adding another challenge for the producers of the VR music videos. Fans who trek out to view the videos will likely already be familiar with much of the music, so the videos will have to do even more to provide a unique and memorable experience than if their release coincided with the album debut.
But who can think of a better artist to steward the early release of VR music videos than beloved Björk? And with River Studios developing the videos, at least we can rely on some of the brightest minds in the business not to dash VR's reputation before it even gets started.