Who Is BiA, Pharrell Williams' Latest Protegé?
Introducing Boston's BiA, a captivating rapper with a forthcoming debut album.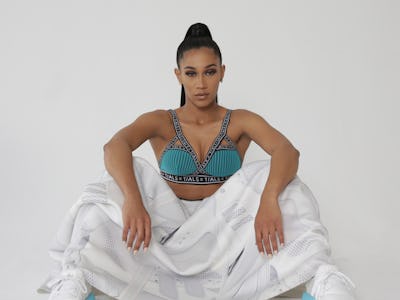 Official website
"It's a lifestyle, #trapvogue."
How do you not want to know more about BiA, after reading such a statement? In four years, rapper BiA went from surviving a fatal motorcycle accident to appearing on Oxygen's TV series Sisterhood of Hip Hop to creating an anthem for Gucci Mane's return to the real world ("Gucci Comin' Home") all while being under the wings of Pharrell Williams.
BiA, also known as Perico Princess, is originally from Boston, MA and is of Puerto Rican and Italian descent. Her music blends influences of Latin music and trap music, which she grew up on. Her lyrics are laced with references of her upbringing and musical tastes, such as "Bobby Brown."
When in the studio with a few rappers, "famous battle rappers now," at the age of 14 in Boston, Bia, born Bianca Landrau, would quietly write rhymes. She'd "soak up" the studio sessions, but kept her artistry to herself until the age of 18.
As soon as she put herself out there, Virginia's own rapper Fam-Lay discovered her on YouTube through her video "High." He immediately introduced her to friend and long time collaborator, Pharrell Williams. But Pharrell put her to a test. She told [Hot 97]( that the day she met Pharrell he threw on a song he was working on, which she later found out was intended for T.I. He asked her to "write a 16 to this. 'If it's good, I'll keep you on and if it's bad, I'm gonna take you off.'" He was pleased to the point where he gave her the song and later added a verse from T.I.
She moved from Boston to Miami, and "struggled." She took a year and half to work with Pharrell and the Star Trek family and then signed to Pharrell's imprint I Am Other (for publishing) and RCA Records (for distribution).
In 2013, BiA was in a bike accident. She was a passenger on a bike, riding with around 10 to 20 other people, and a drunk driver, "whipped a U-Turn [and] I fell 20, 20 feet in the air and fell on the floor." Her "leg was split open," but she survived, as did the driver, her boyfriend at the time, whose "helmet fell off and his head split open."
"I didn't know I was going to keep my leg for the 16 hours in the hospital, she told Hot 97. "But, it humbled me because that was right after I signed my publishing deal with Pharrell." After spending two weeks in the hospital, she was back in the studio.
While she's appeared on Sisterhood of Hip Hop and released an EP #CHOLASEASON in 2014, BiA made heads turn recently when releasing "Gucci Comin' Home"–a fun ode to the recently freed rapper, Gucci Mane.
She's currently working on a new project, Knock On Wood, due this year.