Who Is the Hell is Lance Skiiiwalker, Kendrick Lamar's New Protegé?
Kendrick Lamar's Top Dawg Entertainment adds a new artist to its roster. But who is he?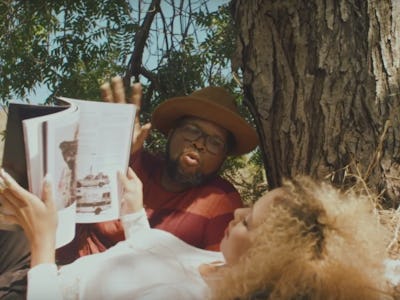 Lance Skiiiwalker's "Could It Be" music video.
Top Dawg Entertainment has a strong, promising crop of artists on its roster, and the label continues to grow slowly, but surely. Earlier this month Top Dawg Entertainment's CEO Anthony "Top Dawg" Tiffith announced a new signee, Lance Skiiiwalker, born Lance Howard. (Three "i"s, so check yourself).
Much like the original TDE artists (first at the label when it first launched: Jay Rock, Kendrick Lamar, ScHoolboy Q, Absoul) Lance Skiiiwalker was featured on, or contributed to, other TDE member's projects and songs. The Chicago producer and singer-songwriter has been featured on Jay Rock's "90059," "Telegram," and 'Money Trees Deuce." He also produced and is featured on ScHoolboy Q's collaboration with SZA, "His & Her Friend," and featured on Kendrick Lamar's "untitled 04."
He's credited throughout several TDE projects under the name Rocket and L. Howard. As Fake Shore Drive points out, Skiiiwalker is also known as Johnny Rocket, a singer/producer from Chicago band, The Rocketeers. The Rocketeers, prevalent in 2008-2009, consisted of Johnny Rocket (producer/vocalist) and D-Win (rapper). FSD also points out that Skiiwalker's earlier work, as Rocket, has been "scrubbed from the internet."
Rumors of the artist's signing to TDE spread when the majority of the label tweeted Skiiiwalker's handle on May 11. Some connected this to a photo of TDE's album rollout that Tiffith posted on Instagram in March, which featured two new signees under the alias "John Doe," speculating that Skiiiwalker was one of those two John Does. Guess they were right.
Since the signing announcement, he's released new song, "Speed", and recently premiered a new video for "Could It Be," directed by PANAMAERA and the little homies consisting of Kendrick Lamar and TDE president, Dave Free. Lance is currently working on his TDE debut album, Introverted Intuition.