Aston Martin Unveils GT8 Configurator as Customization Goes High-End
If you're looking to buy a standard luxury car, you're doing it wrong.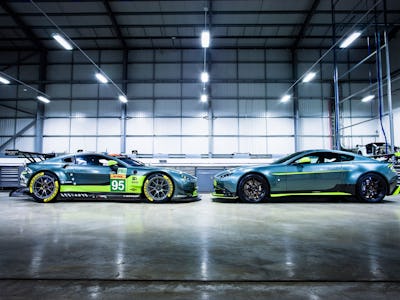 Aston Martin
Aston Martin is great at making beautiful, fast cars. Now, you can make Aston Martin's fast cars beautiful yourself. The luxury car company has released a configurator for its GT8, meaning you can customize the car's specs. You may dream of a sleek and ultra-light whip to race around in, or you might instead yearn for a bright and flashy one to attract wandering eyes. Your wish is Aston Martin's command.
The fact that Aston Martin's going for a configurator — a customization toolkit, which you can mess around with for a while here — indicates a shift in the luxury vehicle market precipitated by Elon Musk doing Elon Musk stuff. Tesla rolled out the first such automotive customizer when it introduced the wildly configurable Model S and made the Model 3 upgradable. Now, it looks like other leading luxury car companies will begin to follow suit. Next thing you know, you'll have almost the same freedom of choice with your car's design and specs as you do in the grocery store's cereal aisle.
The GT8 will not, unfortunately, be sold in North America. But, given that it'd run you around $240,000 and that there will only be 150 made, it's more likely that you ultimately just want to play with the configurator. It's like ordering NikeIDs or a SweetGreen salad, but purely hypothetical and way cooler.