Toyota Rumored to Be in Talks to Buy Boston Dynamics
The car manufacturer seeks to buy the company whose robots are among some of the most famous on YouTube.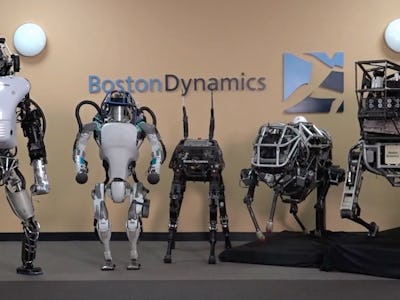 Boston  Dynamics on YouTube
The creations that have come out of Boston Dynamics have become more than internet famous — along with scoring countless YouTube views, some of the company's four-legged creations have gone on to out-act the Star Wars droids on the big screen. Now, one of the biggest names in car manufacturing is looking to add Boston Dynamics to its roster, say sources close to Tech Insider.
So far, there's no major confirmation on the deal and a price has not officially been announced. But, sources say, the "ink is practically dry," and Toyota is looking to make a grab for the company that has annoyed Google for so long with its innovative robotics. Specifically, the deal would bind Toyota's Research Institute to Boston Dynamics, which has been "pushing Google's buttons" as of recently with newer and more advanced robotics. Many of Boston Dynamics' most iconic bots were actually created for DARPA, though Google's intentions were originally thought to continue that development.
Announced this past November, the Toyota Research Institute is Toyota's entry into Silicon's Valley's innovative and growing robotics industry. Reports are calling this a "friendly buyout," but Google has yet to comment and exact details are still a bit hazy. Still, there's history behind the deal: Toyota Research Institute CEO Gill Pratt used to work with Boston Dynamics founder Marc Raibert, and the two are set to work together once more on this new collaboration. The move would also reunite Boston Dynamics with Google's former robotics division co-founder James Kuffner, as well as Joseph Bondaryk, the former operations manager for Boston Dynamics under Google — both left their positions to join the Toyota Research Institute last year.
Google's original reason for purchasing Boston Dynamics was reportedly part of an effort to develop a commercial robot by 2020. When plans changed, teams at BostonDynamics weren't very pleased with the new direction — so the buyout itself seems like a blessing in disguise for both companies, who have been experiencing tension for months.
More updates to come on this developing story.