The 7 Best Tracks on Flume's 'Skin,' His Virtuosic and Cohesive New Album
The 24-year-old Australian just flipped the script.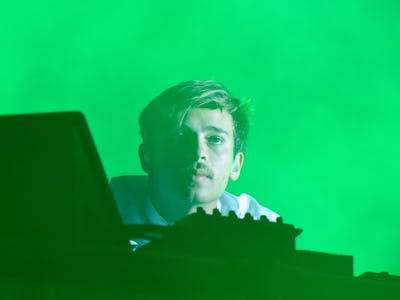 Getty Images / Frazer Harrison
Flume just released his second studio album, Skin, and, with it, achieves a feat that most artists cannot. He completed the second-album challenge: to produce a work that doesn't just reproduce the best features of his debut, but transcends it. With Skin, the 24-year-old Australian producer managed to repurpose and surpass the catchiest elements of his first album. Harvey Edward Streten confirms that he is here to stay.
His first, self-titled album — which he released when he was just 21 years old — was nearly flawless. Deservedly, he became his label Future Classic's poster boy, and drew Australian electronic music out of obscurity. He struck a previously unheard chord, one that combined elements of EDM and bonafide instrumental hip-hop; accordingly, he attracted a variety of ears.
When your first album is a chart-topper, the overwhelming goal with your second is to keep your first album's audience happy while you impress them further — and also as you draw in an even bigger audience. You don't just want to make the same delicious lasagna, you want to add some spices and side dishes. And this is just what Flume was able to do with Skin. Given his success, it makes sense that he was able to cull vocalists and rappers as he wished: this album features Beck, Little Dragon, Vince Staples, Kai, Tove Lo, and AlunaGeorge — among others.
All that said, here are the hits — though, on an album so versatile and yet cohesive, it's hard to pick out just a few.
"Never Be Like You (feat. Kai)"
Flume released "Never Be Like You" as a single back in January. Put simply, it's a song you can keep on repeat. The track's intro balances Kai's downbeat lyrics with upbeat chimes and pads as it builds up to the drop. After that, Kai and Flume compete for the spotlight: on the one hand, Kai's voice and phrasings continuously impress; on the other, Flume's able to maintain a pulsating background while varying the drums and instruments enough to keep your attention.
As is his custom, he's able to seamlessly transition between alluring minimalism and head-banging complexity. His stuttering drums somehow never fail to make sense. He giveth you the bass and then taketh the bass away, and each reintroduction is just what you demand from the song.
"Say It (feat. Tove Lo)"
When you're Flume, you can discover a talented artist and then be in the studio with him or her that very week. Or so writes the producer on Instagram: "I heard a Tove Lo track playing at a bar in LA, I didn't know who it was so I Shazamed it. A few days later we were in the studio together, it all came about so quickly!" If the song itself, and not just the vocals, came about quickly, Flume is virtuosic.
It's a beautifully balanced track: there are low-key moments, and even moments in which the instruments drop away, which perfectly complement the heavy, endlessly catchy main section. All the while Tove Lo's vocals coast and bop over the intricacies.
"Numb & Getting Colder"
"This is the track I'm most proud of on the record," Flume writes. That's reasonable, Mr. Streten: it exhibits your entire range of musical capabilities. The song evolves; listening is a journey. "The concept behind this song was figuring out a way to combine sounds from experimental music and pop," he says, "then have it make sense. I pitched & sped up Kučka's vocals to make her sound like an alien babe from the future. It sounded kind of wrong, but also kind of right." There's not much more one can say.
"Lose It"
Here's Flume: "I thought the weird sound at the start of the track sounded like electronic whale calls, so before Vic got on it, this track was called Electro Whale Symphony." Vic Mensa, a 22-year-old from Chicago, does the track justice. In his verses, he flows like Aesop Rock. In the chorus, as he sings, I might / Lose it, he sounds as if someone's squeezing his man parts — but, given the song's message, it's apt. Again, Flume and his feature were able to achieve a good symbiosis: the beat builds in intensity until it drops, and he's able to evoke the feeling of, well, losing it. The intermittent high-pitched woodblock trill is a gloriously simple touch.
On Flume, his first album, there was just one rapper: T.Shirt. The song, "On Top," turned out to be arguably the weakest on the collection. Either T.Shirt or a younger Harvey was unable to make it work; the song is quality, but at times you can see the seams. At times, to be frank, it just feels awkward. On Skin, though, all rapper features are smooth and natural.
The album's other big single, "Smoke & Retribution," which features Vince Staples, is another hit. Flume explains the process: "Usually, I start the beat first, and then the rapper gets involved. This time it was different, I had Vince's vocal first, and wrote the music around it." That's not a very orthodox method, but, listening to this track, you'd never guess that's how it came about.
"Like Water"
"Like Water," the second to last track on Skin, seems to brood. It's another signature, singularly Flume track. The chord changes are not altogether complex, but the young master is able to vary up the textures, percussion, and instrumentation enough that you're never bored. The song is intense, especially with MNDR's screaming, desperado vocals. "This was one of the first songs I wrote for the record," Flume writes. "Amanda's vocal has some kind of otherworldly quality to it which I love." True, Flume. True.
"Free" / "When Everything Was New"
These two tracks are conceptual and similar, and so can be taken together. In "When Everything Was New," Flume writes that he "wanted to create a feeling of nostalgia. The wonder/fear/excitement a child feels when going to a carnival or the fair for the first time. As an adult I often miss the feeling of experiencing things for the first time." Most conceptual albums and songs fall short of the artist's vision — something is inevitably lost in translation. But this song, with its carnival-esque, repetitive melody, airy vocals, and the sound of children playing, succeeds.
Nostalgia is one of the more complicated emotions: it makes you feel warm and fuzzy while it guts you. And that's, in effect, what this song does. There's no percussion but for a hardly rhythmic trickling sound that emerges at the end; the song, like nostalgia, just builds passion until it's overwhelming, then unpredictably fades away.
"Free," Flume writes, was an effort to get over a creative block.
We'll let him explain:
"I was going a little crazy trying to write music in my studio at home in Sydney. I had writers block for months, to the point where I thought I may never be able to write music again. So I bought a one-way ticket to Tasmania, found a log cabin in the woods, and isolated myself from the world for 10 days. This is the moment I broke free from my creative block."
Must be nice.
Regardless, once you know how the song came about, its meandering nature begins to make sense. The song feels indignant and yet proud — just what you'd expect from an artist who overcame an inexplicable barrier.
One thing's for certain: we're glad you did overcome that block, Flume, and we're glad that you proved — 16 times, on 16 tracks — that you can not only still write music: you can write intelligent hits, and you mature well. Few have that capacity.