New NASA Study Will Test How Solids Dissolve In Space in Order to Improve Our Medicine
NASA hopes to use the results of the study in order to make stronger and more efficient medication here on Earth.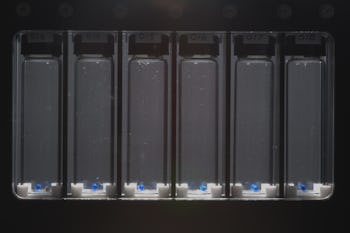 NASA/Zin Technologies
Sometimes, relief can't come fast enough in dire situations. Even the strongest medications eventually stop working as well as they used to. But now, NASA is looking into outer space for ideas on how to improve upon that very problem, aiming to increase the speed of relief with an all-new study aboard the International Space Station.
Announced earlier today, the tests are a continuation of NASA'S previous Hard to Wet Surfaces research. The study is set to explore the speed at which medicine can dissolve and how to improve on two key factors behind the process: wettability and float effect. The overall goal of the tests will be to help researchers better understand each of these factors by separating their effects in microgravity. The tests are specifically taking place on the ISS because differences in density (when it comes to medication) can become negligible in microgravity, and easier to separate.
Allison Campbell, a senior research scientist under Eli Lilly and Company who is working on the project, spoke a little bit on the expectations of her team and how it could effect us.
We hypothesize that tablets that float on Earth will dissolve more quickly in microgravity because they will not float in space. More of the surface will be in contact with the liquid … Looking forward, we don't know if this particular experiment will lead to sweeping changes. But it is all about building a foundation of knowledge so we can develop a better product.
The research is a collaborative effort between NASA, Lilly, and the Center for the Advancement of Science in Space (CASIS). CASIS is responsible for managing the International Space Station U.S. National Laboratory, and helped researchers from Lilly prepare for the important tests. CASIS representatives said that they planned to continue supporting the research by helping to maximize use of data and to develop future experiments.