Who Is Suboi, the Rapper Who Performed for Obama? 
Introducing the scene-stealing rapper from Obama's tour of Vietnam.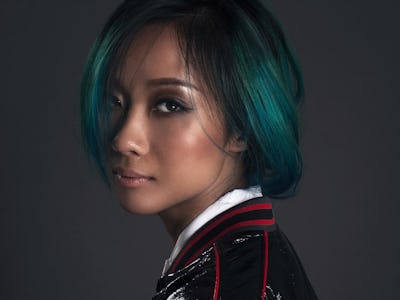 Suboi's Facebook profile.
Vietnamese rapper, singer-songwriter Suboi knows how to take advantage of the spotlight. During a visit to Ho Chi Minh City, President Obama held a discussion in which the last guest chosen to ask a question was Suboi (born Hang Lam Trang Anh).
Suboi was interested in knowing "how important it is for a nation to really help and promote their art and culture." Obama happily answered her question, but not before asking her to spit on the spot to which she did, in Vietnamese.
"I was just talking about some people having a lot of money, having big houses, but actually are they really happy?" she said of her rap. She and Obama continued to discuss the gender stereotypes in the music industry, both in Vietnam and the U.S.
But who is Suboi? She's a 26-year-old artist born in Hàng Lâm Trang Anh from Ho Chi Minh City, Vietnam. She began writing rhymes at the age of 15, and worked as an English teacher and a kid's party clown to support herself while pursuing rap. Her rap moniker comes from her shy demeanor and tomboy style. "Su" is her nickname and "boi" stands for boy. One of her biggest musical influences – and he's also why her English is so rude.
"Oh, man, it was all bad words. It was a great way to learn English,"she told The Daily Beast in 2015.
She was a part of a nu-metal band during her teenage years, in which she sang covers of Linkin Park songs. She was called up on stage to rap, while at a bar for a friend's performance. From there she was offered gigs, and eventually signed to Music Faces in 2009. She garnered mainstream attention after appearing on singles, My Apology" and "Girls Night" in 2009.
Suboi released her debut album Walk in 2010, and launched her own imprint, Suboi Entertainment, in 2012. Suboi finally made her U.S. live debut in 2015, after having problems with her visa.
Now, she's known as the "Vietname's Queen of Hip-Hop," and has made appearances in advertisements for Samsung and Adidas. So, rapping for Obama was just another notch in Suboi's growing career-belt.