Exploring the World's Only Superhero Museum
A new generation of fans are coming to visit the only superhero museum in the world.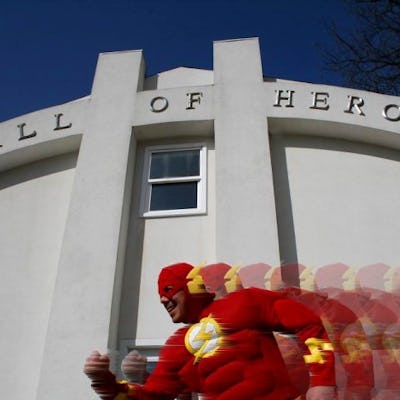 Allen Stewart
In 2005, Allen Stewart decided to turn his expansive personal collection of superhero memorabilia into a museum. With the goal of sharing his love of all things superheroes, he created a two-story replica of the Hall of Justice in his own backyard to showcase his treasures. It was meant to be a fun, local museum for the people of Elkhart, Indiana.
It remained a local gem until Stan Lee and Adrianne Curry dropped by, to film an episode for their Superfans TV series. Nine years later, and the Hall of Heroes is still hopping; it's still the only museum in the world dedicated to superheroes and comic books.
Inverse spoke with Stewart about his museum, and how it's grown in the wake of contemporary superhero mania.
A longtime collector, Stewart amassed a large personal collection of his favorite superhero props and costumes. When he set out to make a museum, he wanted to do it properly. As he says, Hall Of Heroes is currently the only institution actively working to preserve the history of comic books and superhero portrayals in the media.
As a nonprofit, this can be difficult work; it involves archival work, curation and restorations. Luckily, because of Stewart's work, and his features in a variety of TV shows and documentaries, comic conventions all over America help fundraise to keep Stewart's work alive. The collection even includes a recent restoration of a rare Captain America #1.
The collection at the Hall of Heroes consists of over 60,000 comic books, over 10,000 toys and movie props, and over a 100 works of original art and animation cells. As a comic book fan of over 30 years, Stewart amassed a good portion of his collection way before he began preserving them professionally. It apparently all started with the Adam West Batman TV show he watched as a kid, and culminated in receiving the actual Adam West Batman costume from the '70s.
As a result of the success from the Marvel movies and even the animated series on television, Allen has been seeing a noticeable influx of new fans of all ages. He relishes seeing multiple generations of comic book fans, from the new fans to the ones who've been reading since the '40s, coming by his museum to appreciate the full history. After all, the collection at the Hall of Heroes ranges from classics like the Adam West Batsuit, to modern favorites like the actual Captain America shield used in Captain America: The First Avenger and signed by the cast of Captain America: Winter Soldier and Agents of S.H.I.E.L.D. Between those two and everything else, the Hall of Heroes runs the gamut of superhero and comic history.
The collection is rapidly outgrowing its Hall of Justice housing, and is in need of a larger facility. Thanks to their work in the actual archives and preservation of comic history, they have a lot of supporters helping out with their growth.
It'd be one thing if this was an expansive collection of props and comics, but to actually engage in historical work regarding comics is an important step in preserving the medium in its proper context. With the gradual move to digital, many of our greatest pop-cultural contributions of the last decade could be lost in the transition. Whether or not you're interested in superheroes or comics, this is an example of pop-culture given the same archival treatment as our most important historical finds, and that's a great thing.