One Stop on a Worldwide Quest for Startups Ready to Disrupt Getting Old
Eldercare isn't the buzziest sector right now, but maybe it should be.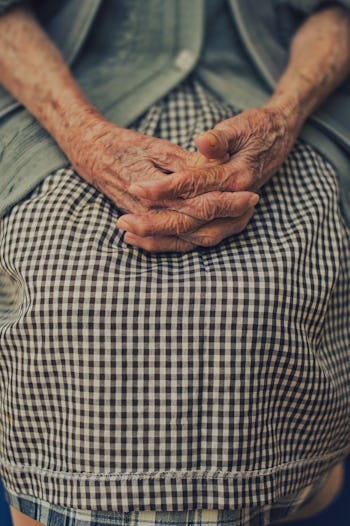 Ismael Nieto
Grace Andruszkiewicz, the director of community engagement for Aging2.0, has the touring schedule of a rock star. But she's her own roadie and her own hype man. Her job is to get the crowds she addresses — meetings of would-be hardware and software entrepreneurs — excited about a group of people dismissed by most disruptors: the elderly. As VCs take wild bets on how to make young people happy, Andruszkiewicz travels the world handpicking the initiatives most likely to make old people more comfortable. The 40 or 50 most promising innovators she meets on her travels this year will meet in San Francisco to compete for a grand prize.
"The most important thing we're looking for is impact," says Andruszkiewicz. "Does this speak to our mission? Is this doing something that's going to revolutionize and really improve quality of life and the aging experience for older people?"
Last week, Andruszkiewicz was in Washington, D.C. to run one of this year's fifty-odd Global Startup Search events at the incubator 1776's headquarters. There were multiple pizzas and attendees of all ages. People were buzzing even though the scene wasn't buzzy. It was clear a quiet consensus had been reached: The status quo — going softly into that good night — would no longer stand. People wanted to work with Aging2.0, and by extension Google, to make human obsolescence obsolete.
Aging startups (or anti-aging startups, if we want to be particular) tend to fall into one of four categories: independence, care, mobility, and mind. Companies either seek to innovate medical solutions or improve care. Last year, Sensassure, which focuses on incontinence, took the prize in D.C. Andruszkiewicz praised the company for taking on something "which is not a topic that people want to talk about too much." The Sensassure sensor goes inside elderly briefs and alerts caretakers when it detects wetness. It's about the least glamorous piece of hardware imaginable, but it makes patients' and caregivers' lives easier and less damp. Another Aging2.0 supporting company, SingFit, sells a slightly more palatable app designed to "make music therapy scalable." By encouraging elderly karaoke, the app fights dementia and cognitive impairment while boosting users' moods.
"Almost every startup that we work with has a team that's emotionally connected to what they're doing, and they're not in it to build a new app, get a billion dollars, and then retire at 25," says Andruszkiewicz. "They're here because they're really passionate about a personal story that affected their life and genuinely want to help other people."
That said, Andruszkiewicz is not enough to keep a company afloat, and Aging2.0 is frank about wanting to work with entrepreneurs who have plausible monetization plans. Without money, these businesses can't scale, which means they can't help, which means that the stigma of aging stays intact.
"We certainly want to look at feasible businesses," says Andruszkiewicz. "There's some crossover in the healthcare space, and health tech is huge, but in the aging space, in particular, we're seeing a ton of growth."
Reciprocare, which aims to smooth out the caregiver-selection and hiring process, was chosen to represent D.C. in San Francisco. The technology is not earthshattering — it's basically ZocDoc for caregivers — but one can imagine its effects might be.
The field's expansion is entirely understandable. Baby boomers are reaching seniority and can reasonably be expected to hang around for longer than their parents. And, unlike the "Greatest Generation," those now entering their twilight years had exposure to technology during their careers and while raising their children. They are open to software solutions to problems with their hardware. They're willing and eager to try anything. "People underestimate how tech-savvy seniors are today. But also, we're not only designing for seniors today — we're also designing for seniors tomorrow."
Andruszkiewicz says the ultimate goal is to make getting older a pleasant experience. That idea, the notion that the close of day can be joyful and dignifying, is perhaps the biggest innovation at play. It's also the innovation that the millions of aging Americans will demand. Suffering is one thing. Suffering purposelessly is another. Aging2.0 is betting that, early adopters or not, the elderly will refuse to accept limitations.