Christina Aguilera's Duet With Whitney Houston's Hologram Has Been Cancelled
The Houston Estate cancelled scheduled stunt for "The Voice" after the hologram tested below their standards.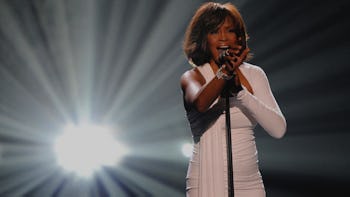 Getty Images
These days, holographic technology has become a delightful, if not slightly common practice in the music world. The Gorillaz famously used projections and interactive 3D character models for tours, and arranged one incredible performance with Madonna that rocked the 2006 Grammys. One of the world's biggest international pop stars is a fictional Japanese girl who performs to sold-out arenas as a hologram. Legendary rapper Tupic Shakur "came back from the dead" at Coachella in 2012. Actual likeness rights have been obtained for Notorious B.I.G.'s hologram. Amid all of these performances, one was set to close out The Voice on May 23rd, but now, that particular one may never happen.
For anyone who ever wanted Christina Aguilera to duet with the late Whitney Houston (who passed in 2012), pack up those dreams and go home. Earlier today, leaked footage of the planned stunt circulated and allegedly showed a practice session that demonstrated Houston's holographic likeness. Aguilera was meant to cycle through several of Houston's biggest hits as a tribute to the singer, accompanied by the hologram and the singer's original vocals. Spin gave a brief rundown of the footage earlier today:
Aguilera starts off with the deceased singer's "I Have Nothing" on her own before signaling behind her and saying, creepily, "Ladies and gentlemen, Whitney Houston. The curtain falls, and — you guessed it — a hologram of Houston appears to "belt" the rest of "Nothing" before the pair of them segue into "Im Every Woman." It is… wild.
Houston's likeness was to be remade by Hologram USA (one of the many companies on the competitive hologram market). Unfortunately, when the time came for rehearsal, the hologram didn't quite live up to what the Houston estate expected. In a statement to ET today by Pat Houston, the estate's executor, the judgment was soft and swift:
We are so appreciative of the opportunity for the Whitney Houston hologram to appear on NBC's The Voice with a talent pairing as extraordinary as Christina Aguilera and Whitney Houston. … Holograms are new technology that take time to perfect, and we believe with artists of this iconic caliber, it must be perfect. Whitney's legacy and her devoted fans deserve perfection. After closely viewing the performance, we decided the hologram was not ready to air. We have much respect and appreciation for Christina, and she was absolutely flawless.
Don't worry, though — future plans for the hologram, according to a press release, involve a massive tributary tour for Whitney Houston. The boom of hologram performance technology has set the perfect stage for a commemorative tour. If Hatsune Miku can twirl a leek and sell out stadiums, then Whitney Houston probably has a fighting chance at it, too.