How To Listen to Ariana Grande's New Album, "Dangerous Woman"
Ariana Grande's third album, with singles including "Be Alright," has arrived.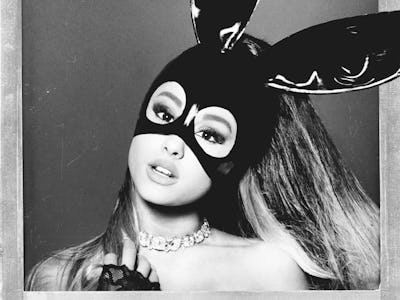 Ariana Grande.com
The highly anticipated third album from pop star Ariana Grande, titled Dangerous Woman, exclusively hit the iTunes store just an hour shy of its official May 20 midnight release. Grande's 50+ million social media followers celebrated the lead-up to the release with an explosive hashtag, #DangerousWomanTODAY, which spent the day hovering around the top of Twitter's United States trending topics.
The album contains 15 tracks, including all previously released singles: "Into You," "Be Alright," "Dangerous Woman," and "Let Me Love You" featuring Lil Wayne. With Dangerous Woman, Grande continues to push the boundaries of her career, bridging the gap from child star to a grown woman with her eyes on the horizon. Regaining her step after the stumble of past controversies, the pop star joins forces with the likes of Nicki Minaj, Future, and Macy Gray for a sultry, soulful new set of songs.
The new album seeks to demonstrate a grown-up, but still feminine Grande, who recently spoke with Billboard about her views as an adult and a feminist:
"Do you want to see something I saved to my phone because it upset me so much?" she asks me. It's a collection of tweets from a U.K. radio station with a salacious streak — two praise Justin Bieber and Zayn Malik for showing skin, and two scold Miley Cyrus and Kim Kardashian for the same. "If you're going to rave about how sexy a male artist looks with his shirt off," says Grande, "and a woman decides to get in her panties or show her boobies for a photo shoot, she needs to be treated with the same awe and admiration. I will say it until I'm an old-ass lady with my tits out at Whole Foods. I'll be in the produce aisle, naked at 95, with a sensible ponytail, one strand of hair left on my head and a Chanel bow. Mark my words. See you there with my 95 dogs."
Fans took to Twitter with early reactions to the album, highlighting instant new favorites:
Dangerous Woman is available for $13 on iTunes, Google Play, Amazon, Ariana Grande's official website, and local retailers. Fans can stream the album on Apple Music, and Spotify.