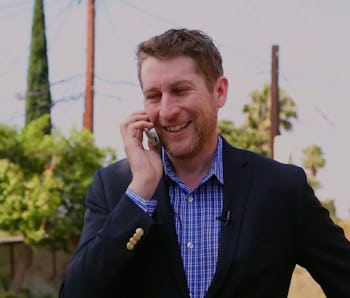 Entertainment
The Booming Biz of 'Comedy Bang! Bang!'
With his show, podcast, tour, and million other projects, Scott Aukerman is as ubiquitous as Apple earbuds and just as tired.
Funny or Die
Scott Aukerman needs a vacation, but he won't be getting one anytime soon — and it's his own damn fault.
Over the past decade, the 45-year-old, LA-based writer and performer has built a grassroots comedy empire, a hustle that brought him to NYC for a string of sold-out live performances of his hit podcast, Comedy Bang! Bang!. By the time Aukerman spoke with Inverse in early May, he'd worked every day of the past eight weeks — and the pace was only increasing, as he was due to perform six shows in three days, and then hit the road again to continue the Comedy Bang! Bang! tour. It's a non-stop barrage, and Aukerman — a man with a strong sense of obligation — feels compelled to give the fans many opportunities to watch his tour.
"We picked bigger venues than I thought we could sell out, because I didn't really want to add shows, he admits. "You know there's so much demand, and that you need to add shows, because people were bummed they didn't get tickets. We kept adding shows and that led to a bigger schedule than we anticipated."
It's led to a lot of happy fans – and one one exhausted comedian. "It's definitely something where I've been consciously realizing that over the summer I need to take some time off," the normally tireless Aukerman concedes. The tour, when it ends, will see him play 27 shows in 19 cities in less than a month.
If Aukerman hasn't spread himself thin so much as he's extended his reach. In addition to the multi-platform CBB franchise, Aukerman serves as producer on his wife Kulap Vilyasack's satirical real estate show, Bajillion Dollar Properties for the streaming network Seeso, for whom he has another show just finishing production, called Take My Wife, writes jokes for the Oscars and Emmys, serves as the primary writer on Zach Galifianakis' Funny or Die series Between Two Ferns, and helps run Earwolf, the ever-imposing podcast network he co-founded in 2010.
The live Bang! Bang! shows each end with a meet and greet, during which Aukerman and his collaborators take pictures with thousands of fans, who can —and do — recite the improvised jokes from the absurdist, cult sensation podcast and TV show back at their comedy heroes. CBB, in its audio form, is an improvisational madhouse, in which Aukerman plays the straight man to a rotating cast of improvised characters played by comedians, and interviews celebrity guests. Stuttered words and silly screw ups become beloved catchphrases; last year, frequent guest Jason Mantzoukas fumbled the words "Hang on, man," and now the nonsense term "Heynong Man" is proudly displayed on t-shirts and used as a sort of secret code word among fans. (The inside jokes run deep; our readers turned the tables and asked him to answer one of CBB's favorite joke questions: "It's too much hard work to actually play any pranks on set," Aukerman responded. "People are usually exhausted and just wanting to go home. No Clooney, I. If you can't top George Clooney, don't even bother, is what I say).
That deep knowledge and enthusiasm of the fans is what keeps him going.
"It's one thing to know how many downloads you get and have people reaching out to you on Twitter," says Aukerman, "and it's another thing to have some of these crowds that are like 1800 people and they're all amped."
Natural comedic talent got Aukerman to Hollywood; technology has helped enable his rise to multi-hyphenate success story, a journey that has tracked closely with the alt-comedy boom of the last decade. After spending a decade and a half as a TV comedy writer (he worked on the seminal HBO sketch series Mr. Show) and selling screenplays that mostly got stuck in development hell, he struck out on a new path, investing in himself and his talented friends in Los Angeles. He co-founded the popular Comedy Death Ray stand-up showcase at the Upright Citizens Brigade in the mid-2000s, then began a radio broadcast of the same name in 2009.
That became Comedy Bang! Bang!, which made the fateful move to podcast form the next year (one favorite recurring character on the show, a pitch-perfect Long Islander intern named Gino played by comedian Jon Gabrus, still thinks" they're live on the air).
The IFC show launched in 2012, and they've been pumping out episodes at a dizzying pace ever since; when one season ends, the next one gets going a week later. The shows fifth season, which kicks off June 3rd, will add 20 episodes and take the total count up to 110 in just four years.
This season will see the debut of the show's third musical co-host, and their latest appointment is indicative of just how far the series has risen in prominence. Reggie Watts, the wild-haired goofball/mad genius musician, spent three years behind the keyboard in CBB's small living room-like studio, then left to be the band leader for James Corden's Late Late Show on CBS. Last season, the rapper Kid Cudi stepped into the role — he wanted to give comedy a try. Now Weird Al Yankovic — the multiple-Grammy-winning, 12-million-albums-selling godfather of musical parody — has the job. ("I think Cudi is kind of funny in the same way that Al is funny," Aukerman explains, mysteriously). On the show, Aukerman doesn't miss a beat, acting as if Yankovic sliding into the role isn't a big deal.
"Reggie had been there for 70 episodes and it was such a big change, we had to give him this enormous goodbye episode. I think Cudi wanted to do what Al gets to do, which is step in and say 'Hey, I'm here. But I had to be the audience surrogate for Cudi, I had to be the one acting like the audience, saying, Who are you?' I knew if I was meaner, they would be on Cudi's side. With Al, we didn't want to waste the time."
Though Weird Al is a cultural icon, he's content to follow Aukerman's lead on CBB!. "It's been such a gift to us," Aukerman beams. "We'd write him stuff and we'd send it to him beforehand and he'd say this is all really great."
Though Aukerman is beginning to become a household name because of Comedy Bang! Bang! and his TV projects, he built his career by harnessing his appeal to a die-hard fanbase. And while the IFC show is his most visible vehicle, Earwolf, the extensive podcast network, is the hub of his alt-comedy empire.
Launched by Aukerman and business partner Jeff Ullrich in 2010, Earwolf benefitted from perfect timing and was immediately equipped to take advantage of the boom in streaming media. The fact that it could be a profitable business model, though, wasn't something they had banked on.
"I don't know what we expected," Aukerman admits. "I know we thought, Oh boy, it'd be great to have a company where the artist can make money and we can make money, and we hoped that an advertiser would be interested. And no one was for the first three or four years."
It took awhile, but business is now booming. Earwolf now hosts 35 different podcasts, and the ads on Comedy Bang! Bang!, the network's flagship program, are not only sold out, they're mostly written/improvised by Aukerman himself. He has a solid stable of frequent advertisers — often startup companies that try to give a new spin on an old consumer product that they send via mail — and each receives a silly riff that sometimes gently pokes fun at the sponsor.
"The smart advertisers realize more people will listen to the ads if they're funny than if they're dry reads," he says. "I've gotten a few advertisers say stop goofing around. Those advertisers don't last very long. The ones with a sense of humor stick with it."
Prime example: Aukerman begins ads about the mattress startup Leesa bemoaning the fact "that we all have to waste so much of each weekend at mattress showrooms." It's all very "Lake Wobegon" meets "Groundlings," but the advertisers eat is up; Leesa is sponsoring the Bang! Bang! live tour.
Earwolf gives its podcast hosts a lot of leeway when it comes to how many advertisements they want to read or host during each show. Aukerman begins each Bang! Bang! show with an ad, spaces three out throughout the broadcast —- which range from an hour to two hours for more special episodes — and then reads one at the end. Others can do more than that, though the network's higher-ups don't insist on it, Aukerman says.
"The whole formula is whether the show can recoup the investment we can put into them. That's one of the reasons that some shows go to Howl.fm (a new streaming service launched by Earwolf) rather than the subscription-based platform. If the'yre limited or more niche, they won't get the big 30,000 listens every week, then they can go to Howl, and we can pay the [podcasters] or pay for the show."
Within that system there exists the ability to have patience and play the long game with a show, especially if it's relatively small audience is particularly fervent and loyal. Such was the case with the satirical podcast Hollywood Handbook, which has come to be a prime example of the irony of Aukerman and Earwolf's run of success and rise to prominence.
Hosted by Sean Clements and Hayes Davenport, Hollywood Handbook is a satirical guide to success in showbiz, lampooning the bizarre traditions and self-congratulatory nature of Hollywood powerbrokers. The show has grown as Earwolf has become a premium destination, and now pulls in guests who certainly can claim the sort of success, if not self-regard, to which the Handbook jokingly promises its listeners. Now, it's actually somewhat instructional listening.
Aukerman himself has become somewhat of a powerbroker, using his growing clout, audience, and wide-ranging relationships to lift a growing number of TV projects off the ground; there are several deals in the works for new shows, he teases. He just wrapped on another Seeso show, called Take My Wife, and is working on finishing on a second season of Bajillions.
There may be a comedy and broader content bubble, Aukerman concedes, and suggests that many streaming and cable companies may need to consolidate based on target audience at some point; but for now, the plethora of outlets hungry for programming has meant some of his passion projects have been able to find new life. When one comedy he was working on got passed on, he was able to get it picked up by the British-owned Sky Atlantic network. "Production on Sick Note is beginning in England," he adds — though hopefully he'll get some time off before diving into that one; by the end of the tour, he'll have been working for nearly three months straight.