Study Finds That 30 Percent of Americans Have Never Heard of Uber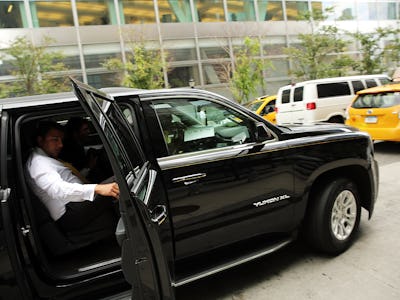 Spencer Platt/Getty
One in three Americans have never heard of ride-hailing apps Uber and Lyft, while only 15 percent have actually tried one of them. All together, the Pew Research Center's first survey on the "sharing economy" finds a country significantly split, with young, well-educated, urbanites dominating the new platforms and loving them. The divide even extends into terminology with only 39 percent of American adults reporting having heard of "crowdfunding," 27 percent recognizing the term "sharing economy," and a mere 11 percent acknowledging they have heard of something called the "gig economy."
About 72 percent of Americans have used a "shared or on-demand" service online, but about two-thirds of that group have "purchased used or second-hand goods." Twenty-two percent have "contributed to online fundraising projects," 11 percent "used online home-sharing services," and 4 percent "hired someone online for an errand or task."
Here's the full breakdown from the study, released today:
Whether you view these usage rates as examples of burgeoning technology or more proof that a Silicon Valley bubble is about to burst undoubtedly depends on your experience.
Those who have used, for example, ride-hailing apps are much more likely than the general public to say these services should not have to follow legacy taxi regulations or pay traditional taxes. Meanwhile, 57 percent of ride-hailing users compared to 42 percent of the public who have heard of the issue believe Uber and Lyft should be free from taxi regulations.
The Pew report also offers greater clarity on the use of crowdfunding sources, which appears to be the most popular form of the new economy. According to the report, the vast majority of users, 68 percent, who have participated in online fundraising have contributed to "help a person in need." The one-third of users who have donated "to fund a new product or invention" constitute only about 7 percent of the adult population.
The report is full of interesting tidbits describing the differences in how the sharing economy has penetrated American life. It's an economy dominated by the young, the well-educated, and the well-off, though how that segmentation will impact the future growth of these platforms remains to be seen.