Expert: People Against Self-Driving Cars "Would've Said No to Automatic Transmissions"
David Strickland sees consumer acceptance as the biggest hurdle.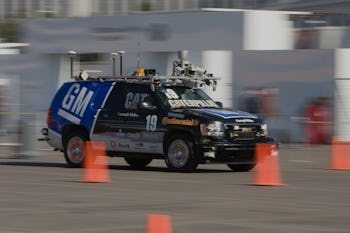 Getty Images
Self-driving cars will be whizzing 'round the world's biggest cities "within a handful of years," according to David Strickland, counsel for the Self-Driving Coalition for Safer Streets. This initial rollout, Strickland believes, will be limited to ride-sharing in cities, where cars tend to move at less than 25 miles per hour.
Speaking at the Washington Post "Transformers" conference on Wednesday, Strickland said that he sees consumer acceptance as the major hurdle to widespread adoption.
Helen Greiner, founder and chief executive of drone company CyPhy Works, agreed with Strickland. Greiner said that consumer acceptance may be driven by early adopters, who choose to have a self-driving car simply because it exists. "I think there's a lot of people like that," she said.
Strickland cited polls that say a majority of people do not want to drive or own a self-driving car. "I bet those same people would've said no to automatic transmissions," said Greiner.
One way public opinion might change, Strickland said, is if people get to understand the tangible benefits. In ways, self-driving cars are safer because they remove the human element. "Everyone thinks they're the world's best driver," he said.
Another key benefit is the potential for self-driving cars to dictate the traffic lights. Racing through a city at 2 a.m. when the roads are empty, drivers may still come across red lights controlled by remote computers. If the car could make the lights aware that there's nobody else around, and it's perfectly safe to switch the lights, people may see that as a big benefit over classic cars.
"I think that is the pull that we're gonna need, in addition to other things."