Why Beyoncé's Message Works, and Why Ariana Grande and Meghan Trainor's Doesn't
Beyoncé opts to display empowerment through honesty, and she does it continuously.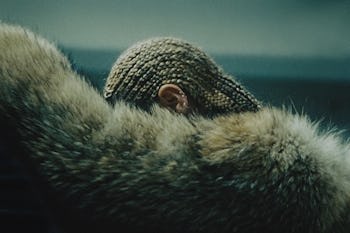 There's no sugar coating in Lemonade. "You can taste the dishonesty, it's all over your breath," Beyoncé opens her sixth studio album bluntly and truthfully, and never deviates throughout all 12 songs. She's been wronged, and her spitfire wrath isn't stopping at her lover. Standing up for herself and for love is delivered raw, and is empowering listeners to do so for themselves.
Beyoncé isn't just throwing up middle fingers on one song on the album — that attitude carries Lemonade and in all tenses and phases (past to present). It's hard to disbelieve Beyoncé when she sings things like, "who the fuck do you think I is? You ain't married to no average bitch boy. You can watch my fat ass twist boy as I bounce to the next dick boy" (on "Don't Hurt Yourself"); or "He only want time me when I'm not there. He better call Becky with the good hair" (on "Sorry").
Beyoncé tells a story that doesn't stop at one song — and its honest as to where you can find a line, a song, a story that mirrors your reflection. When a song meant to empower is too polished, laced with clichés, and gender-specific it's simply less effective. How believable is it when Meghan Trainor brushes off boys at the club when suggesting that women "lick your lips, swing your hips" when saying no? On top of the predictable lyrics, the production is reminiscent of that heard on Pink's 2000 album, Can't Take Me Home. (But at least, "No" became an anthem for moms.)
It's believable that Meghan Trainor is, in real life, all about empowering other women and body positivity even when it comes across as confusing in her lyrics. Recently, she had the music video for her single "Me Too" pulled when she noticed that fans' screen grabs of the video featured her hips photoshopped. "I called everyone who edited the video and asked them to put my hips back. They fixed it right away, but I was embarrassed that I missed it. Especially someone like me, who's all about no Photoshop," she told the New York Post.
Ariana Grande changed the album of her third studio album from Moonlight to Dangerous Woman, also the title of her first single, Ariana Grand said "Dangerous Woman is a lot stronger…To me, a dangerous woman is someone who's not afraid to take a stand, be herself and to be honest." The single itself, which sits at No. 16 on the Hot 100 (while majority of Lemonade climbs the Billboard chart) features the singer stating she'll "take control" but as soon as the chorus hits, you find that its "something 'bout a boy that makes her "feel like a dangerous woman." Not to hate on a man making a woman feel strong — sexually or mentally — because that's real, but it's a bit misleading and wavers from what the album stands for.
Beyoncé has released her share of sugary singles for single women, something I acknowledge when thinking about recent songs from Ariana Grande and Meghan Trainor. But when something like "Single Ladies" was released, it was a different climate, a time when one song or only singles were enough to move the needle. Nowadays, consistency and quality trumps a tweet-able line if impact is the goal.
Even when speaking of a man that's wronged her, a man that she ultimately forgives, there's no cracks in her story to fall into. Beyoncé proves honesty is enough to empower. There's no instruction to take revenge or walk away, as she does, or to forgive or fight, as she does. You pull what pulls you, you connect to what screams your name. Acting as you see fit for you, encouraged to do so, warrants success.