New Arduino Primo Comes With Bluetooth, Infrared, NFC, and Wi-Fi
Time to give your R2-D2 replica build the ability to connect with Spotify.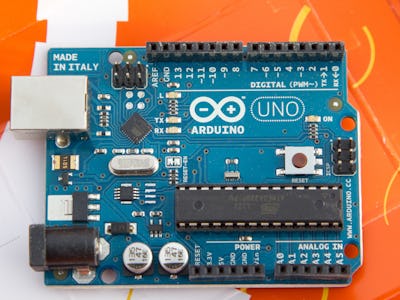 Flickr
Earlier this month, we reported on James Bruton, a droid builder that became one of the first to produce a nearly perfect life-sized BB8 replica. The genius engineer used Arduino electronic modules to control what is basically the droid's "brain" and body movement. The popularity of Arduinio's technology and electronics has been a mainstay in the engineering community for some time, and has famously helped to power a full-sized Iron Man suit in the past.
This coming week at the Bay Area Maker Faire, the company is expected to move forward with its Arduino Primo, an all-new board powered by a Nordic nRF52 SoC. Arduino's new partnership with Nordic Semiconductor allows them to use the technology, which claims to redefine Bluetooth Smart sensors and devices for the IoT era.
Arduino's fame comes from the ease of use when applying their product in a DIY project build, which invite engineers and builders of all levels to construct and program their own hardware — or, most commonly, personal robots. "Our passion at Arduino is to provide the tools to encourage passionate people to build out their ideas and bring them into the world," Federico Musto, CEO & President of Arduino S.r.L. said in Tuesday's press release. "Ease-of-use is one of our core strengths, and this makes the Nordic chip a perfect match for the Arduino Primo," adds Musto.
Despite this, Arduino is just one among many of its kind in a market that is booming after new demand; so the Bluetooth and NFC of the Primo could give Arduino an edge over its everyday competition. Still, it is preferred among several communities, and is one of the components often used for everything from robotic limb replacements to DIY alarm clocks.
Arduino Project Co-Founder Massimo Banzi is expected to speak more on this subject this Saturday at the Maker Faire.